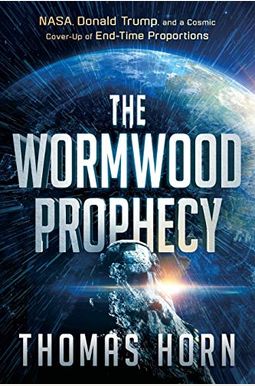 
 
Wormwood Prophecy: Nasa, Donald Trump, And A Cosmic Cover-Up Of End-Time Proportions
Book Overview
Does the Bible predict an asteroid.or something else?
This book will challenge your interpretation of end-times theology and help you sharpen your understanding in light of current times.
Does Revelation 8:10-11 describe an asteroid?
Is the Wormwood star from Revelation 8 already headed toward Earth? Are NASA and high-level government officials aware of an asteroid that is on a collision course with our planet? Is that why President Trump sanctioned a colossal increase to planetary defense? Do the prophecies from ancient cultures and religions across the globe all point to a catastrophic planetary event that has scientists and politicians taking extreme preventative measures under the public radar?
Earth is not currently prepared for the scope of impact that may be just around the corner, and people in high places know it.
But what will the biblical Wormwood actually be? Traditional scholarly interpretation claims it will be an asteroid. Others postulate that the eschatological poisoning of one-third of all Earth's waters and the devastation of our planet's ecology might not be as detectable as we may believe: it could hit suddenly and without warning, like an angel of God appearing in the sky with fire and light, bringing judgment in an instant.
Follow Thomas Horn as he blazes a trail through Read More chevron_right
Frequently Asked Questions About Wormwood Prophecy: Nasa, Donald Trump, And A Cosmic Cover-Up Of End-Time Proportions
Books like Wormwood Prophecy: Nasa, Donald Trump, And A Cosmic Cover-Up Of End-Time Proportions
Book Reviews
(11)
Did you read Wormwood Prophecy: Nasa, Donald Trump, And A Cosmic Cover-Up Of End-Time Proportions? Please provide your feedback and rating to help other readers.
A falling star is heading our way!

Derived From Web

, Oct 4, 2020

Tom Horn has many books by Georges McDowell. I love him so much for the truth that he brings out of hiding. WORMWOOD is another one of his great books and also biblical according to Revelation 811.
Interesting presentation of great and relevant data points!

Derived From Web

, Apr 2, 2020

Tom is a very articulate author who does not force the reader's throat down. He seems genuinely interested in the pursuit of truth and a willingness to share a lifetime of diligent research with those who desire to understand.
Eye opener

Derived From Web

, Apr 2, 2020

This book is a brief look at our future and to show what is truly helpless on the Earth. There is nothing that NASA or man can do to stop what the Book of Revelation has said is coming. Your sole hope is a total surrender to Jesus Christ our Lord and Savior. Touss Blessings.
Not What The Title Says it is

Derived From Web

, Mar 21, 2020

One of the worst purchases ever made. Forget what the title says is about. This book is NOT Apophis, though Apophis is mentioned. It seems like something he wrote years ago and decided to put it into print after he had the dream... but he did not add the dream to the book later! Nothing at all about the dream!
Weird writing

Derived From Web

, Jan 4, 2020

I think this is typical Tom Horn writing, but it is hard to follow and does not flow all over the board. I could also see his struggle with trying to figure out what to write next '', almost like a sense. The premise, I think, is to determine what is in Revelation about... but this book left me asking why did I even try reading it. I don 't recommend this book. If Tom keeps this up, I quit reading even one of his books. They all seem to be the same way of leaving the reader to ask what I just read — and why?
A prophecy for today

Derived From Web

, Dec 28, 2019

I have bought or read several books by Tom Horn and this is one of his best. I would buy it again as gifts.
Deep research

Derived From Web

, Dec 11, 2019

Nevertheless, Tom goes into great depth and tests the various interpretations of what Wormwood could signify. They'll say cut to the chase. Horn leans for much information on respected scholars such as Dr Michael Heiser, as well as informants from NASA who have top secret clearance. To me, it is comforting to know that the Bible always proves correct. God will bring about the events of Revelation, whether by natural or supernatural means. Wormwood has a dual purpose, both motivating Antichrist to form his One-World government quickly and also driving lingering, laggard, lethargic, smartphone-addicted believers to their knees.
Great info but...

Derived From Web

, Dec 7, 2019

The first 3 chapters, as well as the last, were great, but considering how the author says the inspiration for this book came about, the rest of the chapters were unnecessary.
Great book!

Derived From Web

, Dec 6, 2019

This book is highly recommended. I am well informed on this subject and Dr Horn has done a wonderful job presenting the material. Recommend to anyone who wants to understand Revelations Prophesy in a practical way! Easy to write, found difficult to put down!
Just ok

Derived From Web

, Dec 5, 2019

When I bought this book, I knew that it would not be about the dreamnightmare, vision that Mr Horn had, that is said, I did a good job on all his different interviews convincing you that you needed to read this book and get it as many people as possible, but a few parts I ended up skipping because they did not hold my interest.