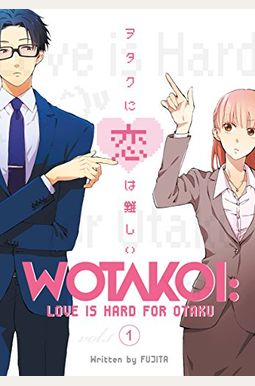  
Wotakoi: Love Is Hard For Otaku 1
Book Overview
A geeky girl whose life revolves around yaoi manga and a quiet gamer boy are old friends, but when they start working in the same office, they decide to date. It's a relationship of convenience at first, but could it become something more? This manga comedy is now a hit streaming anime
Extra-long book includes 2 Japanese volumes GAMES OVER ROMANCE Narumi Momose has had it rough: Every boyfriend she's had dumped her once they found out she was an otaku, so she's gone to great lengths to hide it. When a chance meeting at her new job with childhood friend, fellow otaku, and now coworker Hirotaka Nifuji almost gets her secret outed at work, she comes up with a plan to make sure he never speaks up. But he comes up with a counter-proposal: Why doesn't she just date him instead? In love, there are no save points.
Frequently Asked Questions About Wotakoi: Love Is Hard For Otaku 1
Books like Wotakoi: Love Is Hard For Otaku 1
Book Reviews
(10)
Did you read Wotakoi: Love Is Hard For Otaku 1? Please provide your feedback and rating to help other readers.
Came dirty

Derived From Web

, Jul 25, 2020

The book is fine, but it came with dirty spots all over it and dents on the back cover.
I'm in love with this series. Simply wonderful.

Derived From Web

, Jul 9, 2020

I wasn't really sure if I would like this book, but decided to give it a read. I'm so glad I did, said Blair. Such a great time, said Blair. As a not-so-close otaku, I was quickly drawn to and easily related to the protagonists. So many times I thought to myself that my friend would have said, "No, you can't do that." I really look forward to reading the next volume, he said. If you are even the slightest bit otaku, you must have seen the first part of this manga. Very well done. It's just that these guys are totally believable, totally relatable and totally likeable.
Finally ,a romantic group I can route for .And their all otakus.

Derived From Web

, May 31, 2020

Finally, a group I can route for. And their all. And their all. And their all. And their all. And their all. And their all. And their all. It's basically a story of two workers meeting for the first time since middle school working in the same company and through weird circumstances, they decide to start dating." So the characters are your basic-Moody gamer, short anime chick,otaku-shy tough guy and glasses cosplay girl, and this manga makes the most of it. The former and the latter are probably some of the best and funniest couples I have ever read. There are some truly touching moments in the film. The references and callbacks feel really interwoven,Hard to believe that this manga was created on pixiv hobby, because its too good. I've been looking for a long time for a comic book this funny and this romantic. If you want to see an okatu style romance story with a lot of heart, this is your cup of coffee!
Refreshing take on Japanese "nerd" culture, authentic and relatable

Derived From Web

, Feb 27, 2020

Wotakoi is an otaku-positive content creator, and makes you feel good about being one. The main cast of "The Young Ones" are working adults in their mid-to-late twenties. The show's creators and stars also drew on their experiences as real people, making them relatable. The flow from page to page is a combination of short stories and traditional formats. On average each short story is about 2 1/2 pages long, but often flows into the next segment like a traditional narrative. Because each short story is subdivided by time and location, it becomes more coherent. As you finish reading the first volume, you'll discover why this format was used. Deeply rooted in Japanese social and culture work, some readers might miss a few of the references and jokes. This book is recommended for anyone that has lived or worked in Japan.
Mildly entertaining

Derived From Web

, Feb 19, 2020

If I got more out of it, I probably would have got more out of it, had I got some more of the otaku culture in jokes. The two characters are cute, and I laughed out loud a couple of times. It is rather entertaining, though I would not want to buy another volume or reread it. It just doesn't really go anywhere and the relationships don't make much sense, it's terrible. The front page had some minor damage, but the rest of the book was OK, Reichert said.
the story telling is pretty rubbish

Derived From Web

, Oct 15, 2018

The story itself was good, but the acting was not great. The dialogue between Dr. O'Neill and Dr. Caramore was stilted and the flow of events was too abrupt. They go from former coworkers to the person who means the most to me.
New fave

Derived From Web

, Sep 24, 2018

I've had a lot of fun with this manga. But I can assure you this manga was not perfect, and nothing is perfect. If you have watched the anime this volume has the content of episodes 1-8 which was awesome however like the anime it can get a tad choppy and there are a ton of bonus content which was amazing, however sometimes they would come up randomly without warning. Overall I have to give this manga a 4.5 out of 5 stars this truly is my one of my favorite animemanga of all time and I absolutely cannot wait to read the whole serieswatch more anime when it comes out!!!!!!!!!!!!!!!!!!!!!!!!!!!!!! A French newspaper reported that the pope had told the troops to "shut up" during the second World War.
Love this book

Derived From Web

, May 28, 2018

The whole thing is a cute story, Mr. D'Antonio said. The second volume includes all the previously published works by John A. Frey, "The Age of Innocence." It's great to be back home, said Blair.
Just what I was looking for :)

Derived From Web

, May 26, 2018

What I really liked about this book is that it was written by a woman. It was exactly what I was looking for, Mr. Spengler said. I didn't want a cheesy teenage lovey dovey manga, but one with adults who still had a otaku side to them and were in a relationship regardless. Its just that the description says so, its not too serious, Sax added. Its a manga that's funny, realistic to people in their 20s and the art is cool and cute, says Shuji Kono. I wanted it as something to read when I had the time, but I found myself taking my time with it because I didn't want to finish it too soon.
Same as the anime, which is fantastic

Derived From Web

, May 12, 2018

A slice of life that pokes fun at Otaku. If you have watched the anime and are considering reading the manga, be aware that at least so far, they are EXACTLY the same. Same story. Story, too. Same exact translation. You can hear the voices in your head when you read the manga or watch the anime, too. Not a complaint, just something to know, Mr. Rule told the judge.