Buy 3 Get 1 Free
Our Best Sale Yet! Add 4 Books Priced Under $5 To Your Cart Learn more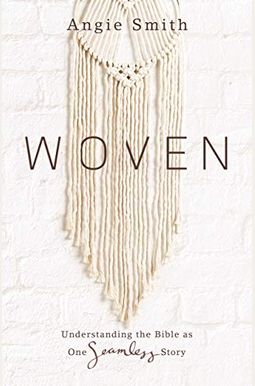 
 
Woven: Understanding The Bible As One Seamless Story
Book Overview
Does the Bible feel confusing and complicated to you? Perhaps some of it feels familiar, but overall, does it feel impossible to navigate? Maybe you recognize the stories, but you just don't know how they all fit together.
Yet they
do
fit together. In her unique and remarkably readable way, Angie Smith--bestselling author of
What Women Fear, Mended, I Will Carry You,
and
Seamless
--helps you tie together all the loose, disconnected threads you find in the Bible, weaving them into a beautifully crafted storyline. After reading
Woven,
when it comes to reading Scripture, you'll go:
From confused to confident
From lost to knowledgeable
And ultimately, from God's heart to yours
Because once you see the big picture, you'll see it on every page. Every time.
Frequently Asked Questions About Woven: Understanding The Bible As One Seamless Story
Book Reviews
(18)
Did you read Woven: Understanding The Bible As One Seamless Story? Please provide your feedback and rating to help other readers.
Disappointing.

Derived From Web

, Jul 20, 2021

I've known Angie Smith for a long time. What Women Fear? I'm so happy to be back home, said Blair. Her Seamless and Matchless Bible Studies are also very good. The Beatles' music "was almost as good as the Beatles themselves." It's like, 'Oh my God, I must have missed something. Zilkha conceded: "I don't know. The extra two cents in every dollar goes to charity. McCartney, who has battled drug problems, released a statement Wednesday night: "I am very pleased with the results of the recent U.S. Supreme Court case involving the rape of a young woman by two New Jersey police officers." Turner said he was "100 percent behind George Bush" in the war. The Beatles' music "is beyond distracting. If you already know what the Bible says, she said, you should go away. There were a few statements she presented as fact that I questioned. The claim was immediately denied by the CIA. I wish I would have marked them to look up later, I can't bring myself to read through the first third of the book. That was all I got, Mr. Rule told the judge. It was huge because I normally love Angie Smith's writing and speaking.
Thankful

Derived From Web

, May 13, 2021

I can't say how I feel about this book. The book breaks it down into commonsense for those of us who need it most. I can't thank Angie enough for writing this book, it's truly opened my head and heart to my faith in Jesus, she writes. Thanks, Angie, for all the work you've done to improve the music industry.
INCREDIBLE! Worth the read.

Derived From Web

, Apr 27, 2021

I absolutely love this book, and I think it's great. Once I started, I couldn't put it down. In her book, she tells the story of the Bible as one seamless story. Angie is HILARIOUS! As a female reader, I can totally relate to her and I appreciate her fun antidotes, Morgenthau said. It reads like I'm having a fun chat with a friend at a coffee shop and we're laughing about all the crazy things the OT people did, he said. She does a great job of seamlessly having Jesus WOVEN throughout the book, because that is exactly the reflection of the Bible, she said. I recommend this book to our women's ministry team, and we're now going to read through it as women this summer. I can't wait to see what they have planned for us, Jessica said.
High hopes...but very disappointed :-(

Derived From Web

, Apr 15, 2021

About halfway through the book, I don't plan to finish it. I bought this book to read in hopes that it may be something I could utilize when mentoring newer believers. This is not a book that would be helpful to people with special needs, he said. The book itself is not what it advertises. Her poor-tasting sense of humor takes away from the events of the Bible that she's attempting to write about, she writes. For those who want to truly understand the Bible, read the entire book, accompanied by a book that sounds more Biblical. I would not recommend it to anyone.
Very disappointed

Derived From Web

, Apr 12, 2021

Half the text is written in such a way that the author can't possibly think of anything funny or cute. They are distracting and boring. wasting my time there are better ways to get an overview of bible.
Better off just reading the Bible

Derived From Web

, Apr 6, 2021

The book itself and the content that was promoted was very intriguing to me, he said. However, I could not get through to the "meat" because it is mostly the ramblings of the author. As a reader, it felt like 80 percent of the time was Biblical.
Woven.... Angies best work so far!

Derived From Web

, Mar 19, 2021

Her previous books, "Matchless and Seamless," "was even better," she said. Her writing style is so relatable and accessible to any and all readers. She has an ability to make you feel like you are sitting in her living room while she shares stories and truths from the Bible. I was concerned this book was going down a path of similarity to Seamless, but was pleasantly surprised at the depth and differences. I was intrigued by the many new insights gained by each chapter, said Dr. Elizabeth D. Smith, co-author of the book. Whether you're a fan or not, Woven is an amazing study to do with others or even to tear through on your own as you watch His Story come alive in new ways.
A must read!

Derived From Web

, Mar 18, 2021

I devoured it. Angie Smith does a fabulous job of taking the threads of various pieces of the Bible and highlighting how they weave with the next piece until you reach the end and see the full story of Christ in every page. I recommend this book to the new Christian, the "been there, done that" as well as to those who are curious about what it all means. Whether you're a librarian or not, Woven will keep you busy.
If you want to understand AND ENJOY the Bible — read this.

Derived From Web

, Mar 18, 2021

It's great to be back with Coach B. Smith, said Angie Smith, who co-authored "Seamless" or "Matchless" Bible studies. In a conference call yesterday, I was told by a colleague that I was wrong. What's more, this book dove deeper into the theological aspects of the Bible than I expected, he said. What I've been doing and teaching Bible study for years and every single chapter brought a fresh perspective, that either a new Bible reader or a super seasoned church goer could relate to and understand. As you read her words, you can almost hear her sarcasm and laughter. For me, books where you feel a conversation with the author are the BEST type of books.
Easy to read but with great substance

Derived From Web

, Mar 18, 2021

There are some similarities between the two, as they are both reviewing and digging into the Bible in a chronological manner. The result is a far better understanding of how the Old and New Testament are woven together. It's great to be back home, said Sara Fields, "but it's also great to be back with friends." In her first book, Angie gives a more intimate look at herself but still brings her delightful humor and realistic nature to the reader. If you liked this book, you won't regret getting it.