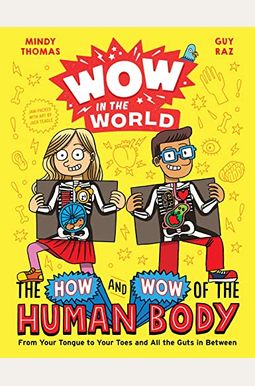 
 
Wow in the World: The How and Wow of the Human Body: From Your Tongue to Your Toes and All the Guts in Between
Product is currently Out of Stock.
You can add it to your wishlist and you will be notified once we receive a copy.
Book Overview
A #1 New York Times Bestseller
Based on their #1 kids podcast, Wow in the World, hosts Mindy Thomas and Guy Raz take readers on a hilarious, fact-filled, and highly illustrated journey through the human body--covering everything from our toes to our tongues to our brains and our lungs
WHY in the world do I have a belly button?
And WHAT in the world does it do?
WHEN in the world will my nose stop growing?
And HOW in the world does my pee keep flowing?
The human body is a fascinating piece of machinery. It's full of mystery, and wonder, and WOW. And it turns out, every single human on the planet has one Join Mindy Thomas and Guy Raz, hosts of the mega-popular
Wow in the World
podcast, as they take you on a fact-filled adventure from your toes and your tongues to your brain and your lungs. Featuring hilarious illustrations and filled with facts, jokes, photos, quizzes, and Wow-To experiments,
The How and Wow of the Human Body
has everything you need to better understand your own walking, talking, barfing, breathing, pooping body of WOW
Frequently Asked Questions About Wow in the World: The How and Wow of the Human Body: From Your Tongue to Your Toes and All the Guts in Between
Book Reviews
(11)
Did you read Wow in the World: The How and Wow of the Human Body: From Your Tongue to Your Toes and All the Guts in Between? Please provide your feedback and rating to help other readers.
Not of Biblical Worldview

Derived From Web

, Jul 1, 2021

Pictures and explanations are fun. If you're a Christian family, you may want to search for a cultural body book elsewhere, especially if you won 't be reading it with your children, as there are human influences hidden there. It goes through the differences between boy and girl puberty minus menstruation and then leads into the culturally accepted view of babies as not being born boy or girl, but something that is decided later in life by them. Also talks about our tailbone : from a time when we had tails... before we evolved... Also if you are a family that decides whether a vaccine is a good choice for you based on your health concerns, genetic history, etc. There is a page that says to encourage your doctor to say YES to a vaccine... A small blurb on pandemics and Covid19. I included pictures because I think if I can see in a book helps the decision whether or not to buy a book.
Wow, with a POW

Derived From Web

, Apr 22, 2021

Children will love the cartoons, facts to surprise others and try the experiments. So many surprising facts will learn parents.
transgenderism

Derived From Web

, Mar 27, 2021

If you are buying this for your children, be prepared to have a discussion on transgenderism because this book discusses it.
Incredible

Derived From Web

, Mar 23, 2021

She takes Non Stop & Reads it wherever she goes with her! She is 9 years old.
Sensory Overload

Derived From Web

, Mar 22, 2021

This book offers great information if you can find it long enough to concentrate. Graphics are wildly dizzying, almost disruptive. Anyone who can not concentrate 100%, and especially young children, will find it difficult to look at or remember any information. After a few minutes, I had to take a break.
8 year old loves it

Derived From Web

, Mar 7, 2021

Meanwhile, I am learning all sorts of fun facts about regular reports on the contents via her supplementary reports.
To eat or to read? That was the question.

Derived From Web

, Mar 6, 2021

Me No More Reading at the Table My daughter devoured the book faster than any meal I put down and then gave it to her brother for him to do the same. Given all the things they mentioned learning and the requests for exploration, I think this book is delivered on the World.
Better for older children

Derived From Web

, Mar 4, 2021

I bought this book for my younger son, unaware that it deals with topics such as sexuality, puberty, and gender identity. I think it is probably a fairly good book for when he is older, but these themes are not now appropriate for him.
A fun book about the human body that kids will love!!

Derived From Web

, Mar 3, 2021

This book is sooooooooooooooooooooooooooooooooooooooooooooooooooooooooooooooooooooooooooooooooooooooooooooooooooooooooooooooooooooooooooooooooooooooooooooooooooooooooooooooooooooooooooooooooooooooooooooooooooooooooooooooooooooooooooooooooooooooooooooooooooooooooooooooooooooooooooooooooooooooooooooooooooooooooooooooooooooooooooooooooooooooooooooooooooooooooooooooooooooooooooooooooooooooooooooooooooooooooooooooooooooooooooooooooooooooooooooooooooooo My 9 and 6 year-old listen to the Wow in the World podcast all the time and enjoy it so much. They let me know that this book was coming out, so we pre-ordered it. It was yesterday and arrived like a Christmas morning. Easy to read, perfect for children to understand and engage in. I even found myself learning things I did not know about the human body. A fun, great reference book about the human body that kids love!
Awesome way to learn!

Derived From Web

, Mar 3, 2021

Mindy and Guy made it again! Today we received this book, and my children were so excited! Tonight we passed it around the dinner table. Adults will love sharing this book with their children.