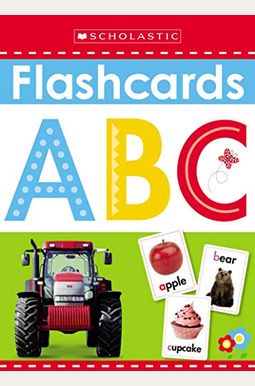 
 
ABC Flashcards: Scholastic Early Learners (Flashcards)
Book Overview
Flashcards ABC helps children learn their letters, particularly focusing on the sounds letters make at the beginning of words. The set contains 26 flashcards, and comes in a sturdy box for easy storage. One side of each flashcard provides practice in forming each letter of the alphabet, while the other side presents a word that uses that letter sound, providing practice with that letter in context, and helping to build the child's vocabulary.
Scholastic Early Learners: Interactive books for hands-on learning. Perfect for babies, toddlers, preschoolers, kindergarteners, and first graders, too
Frequently Asked Questions About ABC Flashcards: Scholastic Early Learners (Flashcards)
Book Reviews
(10)
Did you read ABC Flashcards: Scholastic Early Learners (Flashcards)? Please provide your feedback and rating to help other readers.
2 year old knows all letters

Derived From Web

, Oct 18, 2021

I'm surprised that these are such good quality because they're cheaper than other ones I've bought, but the more expensive ones were disappointing and these scholastic ones are really nice quality, too. After using these, he has a pretty good idea of the alphabet, even though he only did it a couple of times.
Great cards

Derived From Web

, May 13, 2021

We use them in the car, Mr. Dhaliwal said. And they are big enough that my daughter can see what letterimage I'm holding up from the front while she's in the back seat. It's great to pass time in the car, Mr. Shelby said. At the age of 3, I pick a few letters at a time to keep in the car, when she learns those, she gets to pick the next set to learn. He added that we aren't going in order since you need to learn them all and the song will help with the order.
Give your kids these instead of phones! Best thing we bought for our son!

Derived From Web

, Sep 11, 2020

Awesome! Dad got these for my son who is 12 years old. I wasn't too concerned with him actually learning his ABC's so soon, but just wanted to start familiarizing myself with the letters and pictures and if in the process he learned even better. He will be 2 1/2 in October and he knows every picture and each letter! These are the things that have saved lives, Mr. Dhaliwal said. We're on our third set and I just ordered more to have on hand as an almost 2 year will tear and rip them but they are so inexepensive that it doesn't matter. I plan to laminate the next ones and see if that helps with the tearing, but all in all we are very happy we got these!
Some pictures are cartoons not real images which doesnt help with vocabulary

Derived From Web

, Sep 4, 2020

If the samples they used were real objects of the world, I would have given this product 5 stars. Some of the pictures show real objects, but half are cartoon pictures. For my two toddlers who are just starting to learn names of objects and learn words, a hard to recognize cartoon picture doesn't help.
Not for kids just starting alphabet

Derived From Web

, Aug 6, 2020

Some of the cards are not with the best opening. Even if your child is able to read, he or she may not be able to write letters. Obviously they will notice a boy instead of a pumpkin or carrot, Mr. Dhaliwal said. Instead of a bread-and-butter sandwich, Mr. Hughes ordered a tomato-and-butter one. The child is not wrong-those are on the cards, so the whole learning process is not great with these, Mr. Dhaliwal said.
Good Clear Pictures

Derived From Web

, May 15, 2020

This is just for showing my daughter real photos of things. The problem, the report says, is that so many children's learning materials are cartoonish and fake. I especially like the Q because it ties to the O card, and starts to build some quantitative reasoning. 0 1462228 1462228 1 The Q card is great because it starts to build some quantitative reasoning. The card has drawn ire because the kid looks so smug, and it's a little unbalanced from a gender-awareness perspective. It could easily have been something like Alicia Keys, the lead singer of the group.
Great picture but easy to bend

Derived From Web

, Mar 5, 2020

Like the flashcards, I really like the pictures. The background is plain and easy for babies or toddlers to focus on the object on the card and not get distracted by colorful background. The drawback is that it is very soft and it bends with first use.
Good.

Derived From Web

, Feb 18, 2019

Like Q, they show four slices of an orange. Other then a couple of confusing picture choices, good quality.
Overall good, some odd word/picture choices.

Derived From Web

, Jan 31, 2018

They're bright and colorful, and the pictures are large. Some of the typographical errors are a little odd. Like the quarters, these are not coins. The photo shows a quarter-sized slice of orange. You think your toddler is going to know what mathematical quarters are? The kid just sees an orange.
These are nice, high quality cards and I love the jumbo ...

Derived From Web

, Oct 23, 2017

These nice are, high quality cards and I love the jumbo size and great pictures, but some of the pictures don't make sense for what is trying to accomplish. The back of the card has a picture of an orange. If so, why not show a picture of a quarter coin? We are using these flashcards to help our two-year-old letters and their sounds. Whenever we get to Q, he says, "What's up?" He isn't old enough to understand fractions and that isn't what we are trying to teach him right now, so this is just confusing for him. Aside from that, we really enjoy these flashcards, we think.