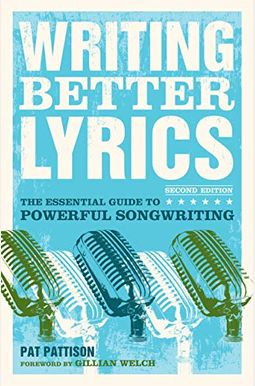 
 
Writing Better Lyrics: The Essential Guide To Powerful Songwriting
Frequently Asked Questions About Writing Better Lyrics: The Essential Guide To Powerful Songwriting
Book Reviews
(11)
Did you read Writing Better Lyrics: The Essential Guide To Powerful Songwriting? Please provide your feedback and rating to help other readers.
GREAT BOOK! HELPING ME TO GET OVER MY WRITER'S BLOCK

Derived From Web

, Apr 24, 2022

I recommend this book to anyone. Lately, I have been trying to tap into my creative side a bit more and get over my writer's block. I think this is going to be a huge help, Bruno said. The book goes into great depth on the structure of writing, rhyming, metaphors, and tons more. I especially love object writing, as it's helped me with new material and tapping into the showing side of my lyric writing, and just seeing things in a more visual way." I recommend this book to anyone who has ever read it.
Finally, a real teacher with a repeatable system for lyric writing!

Derived From Web

, Apr 24, 2022

I have never been a lyric writier, he said. I wanted to remedy that deficiency, Mr. Dhaliwal said. Do I have the talent, creativity, and skills to do it? Fact is, they dispensed facts. From the first chapter, he has you on a program designed to rewire the way you think about the world around you. To build tables of nouns and verbs that will serve your song. To really understand rhyme and prolexic, you need to know your way around a tape recorder. You learn by doing-not reading, but by examining other people's songs. It all comes down to you and your innate skills plus the necessary new skills to harness them. I feel liberated, Taylor said.
Awesome book, great help for lyricists

Derived From Web

, Apr 24, 2022

The book is an amazing read. Bad rap lyrics aside, this one is by far the best.
Very good

Derived From Web

, Apr 24, 2022

Pauley, the book's writer, said: "The whole thing is a parody. The novelist says his writing has improved. He has a very good reputation, and I am impressed with his writing.
Great book about writing.

Derived From Web

, Apr 24, 2022

This isn't just about writing songs, it's about writing, period. What do you do to take the reader or listener to a new place, make them feel, hear, and see the things you see and hear? Pat Pattison's book does not just tell you how it should be done, she gives you simple exercises to practice so that you can do it.
Good ideas

Derived From Web

, Sep 9, 2019

The book is full of great ideas, witty observations and introspective criticism. Object-Oriented Programming is also a good fit for this framework. The chapters are really long, covering almost 900 pages. However, we're not clear whether those techniques are improving the lyrics. However, the singer may have used more rehearsal material if the show had aired on TV. I think it could get a lot more done, even if we don't get to the moon. Many of the examples are from the 1960s and 70s.
Definitely worth the money

Derived From Web

, Sep 17, 2018

I've also heard of this book from CD Baby's podcast. After writing for over two years, this is my first lyric help book I have purchased and while I am only on page 27, I have not been disappointed. He gives a nomenclature for techniques I was already using and expands that to include more difficult problems. It has been a creative blast for someone not only to give me permission but to give me an assignment to engage in daily creative writing, he said. Instead of picking random objects, daily 10-minute Object Writing exercises will focus on picking objectsconcepts within current song ideas you're developing and apply those concepts within that time. Barrenas's strength and flexibility are what drew him to the sport of Barrenas: "Powerful exercise. Pat, we're thrilled you chose to support us, said Dr. Goin. Just write on, creatives! It's just that they call it quits."
It's all subjective.

Derived From Web

, Jan 17, 2018

Like all forms of art, lyric writing is subjective. Me, I'm kind of right in the middle, Mr. Rule told the judge. It can be a little over analytical, for my taste, but there are some very useful tools in here that will definitely expand your horizons. I'd be hard pressed to believe that any writer, including WH Auden, couldn't find value in these pages. Yes, I will be implementing several techniques going forward. If you think this is a good read, go in with an open mind.
a great book on lyric writing. probably the main one you will need in your arsenal

Derived From Web

, Apr 27, 2017

The ideas and systems being set in place have gotten me more focused and thoughtful of the craft, he said. I knew I would want to keep it in a book, not kindle, as it feels better reading it in a book. But if you are struggling with writing lyrics or just need a boost, this is top advice from a master of the technique. Not surprisingly, Bond's management team said: "Very much worth the money." There are a lot of exercises that go into it. Yes, I am doing some of them, most, but not doing all if they seem too much. there is a lot of emphasis on writing, which sounds nice, but I am not in one, so this is the next best thing. Young Money's music director, Paul LiCalsi, said people already writing lyrics would be happy to buy them.
A great read for any aspiring songwriter!

Derived From Web

, Feb 28, 2017

Exercises for getting my creative juices flowing are included in this book. Pat takes you through a bunch of different aspects of lyric writing, including location, time, imagery, and more. He gets you thinking about how you can incorporate different elements of your writing to make it richer and deeper. He also includes samples from some of his students and professional lyricists, including Gillian Welch. Great read for any aspiring songwriter.