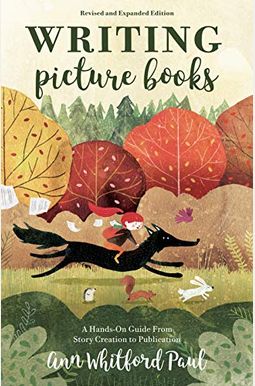 
 
Writing Picture Books Revised and Expanded Edition: A Hands-On Guide from Story Creation to Publication
Book Overview
Master the Art of Writing Enthralling Tales for the Youngest pre-and emerging readers
Fully updated and thoroughly revised,
Writing Picture Books Revised and Expanded Edition
is the go-to resource for writers crafting stories for children ages two to eight. You'll learn the unique set of skills it takes to bring your story to life by using tightly focused text and leaving room for the illustrator to be creative. Award-winning author Ann Whitford Paul helps you develop the skills you need by walking you through techniques and exercises specifically for picture book writers. You'll find: - Instruction on generating ideas, creating characters, point-of-view, beginnings and endings, plotting, word count, rhyme, and more
- Unique methods for using poetic techniques to enrich your writing
- Hands-on revision exercises (get out your scissors, tape, and highlighters) to help identify problems and improve your picture book manuscripts
- Updated tips for researching the changing picture book market, approaching publishers, working with an agent, and developing a platform
- All new quizzes and examples from picture books throughout
- New chapters cover issues such as page turns, agents, and self-publishing Whether you're just starting out as a picture book writer or have tried unsuccessfully to get your work published,
Writing Picture Books Revised and Expanded Edition
is just what you need to craft picture books that will appeal to young children and parents, and agents and editors.
Frequently Asked Questions About Writing Picture Books Revised and Expanded Edition: A Hands-On Guide from Story Creation to Publication
Books like Writing Picture Books Revised and Expanded Edition: A Hands-On Guide from Story Creation to Publication
Book Reviews
(9)
Did you read Writing Picture Books Revised and Expanded Edition: A Hands-On Guide from Story Creation to Publication? Please provide your feedback and rating to help other readers.
Hands On Guide to Writing Picture Books

Derived From Web

, Feb 17, 2021

Now that I am a grandmother, I find myself fascinated by picture books. I then turned to Paul's picture books for Ann Whitford. Ms. Paul provides a hands-on approach to the process of creating picture books. I enjoyed this informative text with an abundant number of examples, lists of resources and writing prompts that help readers understand the entire process of creating a picture book. It opens one's creative horizons and challenges for a writer to condense the aspects of a captivating story within the confines of 32 pages. It is a great resource to have in your library, whether you are a writer or just one on a quest to understand the different genres of literature. Paul does a great job, Ms. Paul.
The font is incredibly small throughout.

Derived From Web

, Sep 11, 2020

On each page, too much information is crammed. It is very tiring. Had I seen it in a bookstore, I would not have bought it. It's doubtful that I ever finish it. I feel the eye strain reading the author's about the author and welcome sections just. A terrible disappointment and a waste of money.
Forget the title, best book on writing, period.

Derived From Web

, Jan 29, 2020

I read many books on writing. This is the best, though the theme is picture books. I love that she rewrites an aesop's fable in many different ways, demonstrating different techniques. Good writing is good writing and because picture books are conflated, often poetic, there is no slack for dull or thoughtless word use. It is no accident that many of these books burn for a lifetime in our minds. Loved this book and wished I read the first issue from the moment it was released.
Small and light print

Derived From Web

, Nov 21, 2019

Bottom line : I can read the book without a magnifying glass barely. The font is ridiculously small and when they use an example, they use a lighter font, making it even harder. I like to mark them, use a highlighter, and make notes in the margins. I would never do this with a novel, but this is an educational publication.
Eyes Wide Open

Derived From Web

, Aug 22, 2019

I enjoyed this book thoroughly '', which was a surprise. I expected it to be dry and academic, but instead, Ms. Paul made reading a text as pleasant as reading one of her picture books. Her writing was uplifting even when discussing the more mundane aspects of writing picture books -- revisions, editing, revisions, idea search, revisions, agent search, skill development and finally revisions. I took notes, outlined the chapters and highlighted most of the book. Now write.
Best How-to Book for Aspiring Children's Writers

Derived From Web

, Aug 19, 2019

I borrowed this book from the library and purchased a copy immediately after completion. Every chapter is full of helpful advice and insights on how to improve your writing. As a new author, I found it most helpful to have someone with such extensive experience to lead me through the ins and outs of writing for children. Paul thanks Ann Whitford!
I've been waiting for this updated version

Derived From Web

, Feb 9, 2019

The previous edition of this book was a must-have textbook for anyone wanting to write picture books and is now even better because it has been updated!
Great Update

Derived From Web

, Jan 17, 2019

This revered guide for picture book writers is as helpful and as always nicely updated. My old copy was published as I went from someone studying the craft to someone who was still studying the craft! This is a great guide whether you start your journey with writing or a seasoned pro!
Exceptionally helpful

Derived From Web

, Dec 15, 2018

Now that I am trying to write a picture book, I decided to get it and am so glad that I did. If I ever publish my book, I owe it to this book.