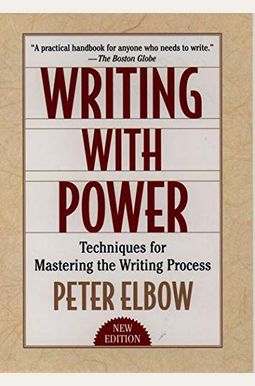 
 
Writing With Power: Techniques For Mastering The Writing Process
Book Overview
This Description may be from another edition of this product.
A classic handbook for anyone who needs to write, Writing With Power speaks to everyone who has wrestled with words while seeking to gain power with them. Here, Peter Elbow emphasizes that the essential activities underlying good writing and the essential exercises promoting it are really not difficult at all. Employing a cookbook approach, Elbow provides the reader (and writer) with various recipes: for getting words down on paper, for revising, for dealing with an audience, for getting feedback on a piece of writing, and still other recipes for approaching the mystery of power in writing. In a new introduction, he offers his reflections on the original edition, discusses the responses from people who have followed his techniques, how his methods may differ from other processes, and how his original topics are still pertinent to todays writer. By taking risks and embracing mistakes, Elbow hopes the writer may somehow find a hold on the creative process and be able to heighten two mentalities--the production of writing and the revision of it. From students and teachers to novelists and poets, Writing with Power reminds us that we can celebrate the uses of mystery, chaos, nonplanning, and magic, while achieving analysis, conscious control, explicitness, and care in whatever it is we set down on paper.
Frequently Asked Questions About Writing With Power: Techniques For Mastering The Writing Process
Books like Writing With Power: Techniques For Mastering The Writing Process
Book Reviews
(7)
Did you read Writing With Power: Techniques For Mastering The Writing Process? Please provide your feedback and rating to help other readers.
This book can help writers at any level

Derived From Web

, Jun 3, 2022

His suggestions for revision work were. I read with fascination how I happen to be practicing the most dangerous method for writing words on paper. Until I read this, I thought that all the writers planned what they wrote in the same way. He didn 't scare me into changing. This method has worked for me throughout my journalism career, so that I write fiction in the same way. In this book, so much more was written. This book is so helpful and this book is written clearly. Highly recommended. P.S. : I hope that this review is written clearly.
Elbow aficionado un-disappointed

Derived From Web

, Jun 3, 2022

I am an avid reader of Peter Elbow's work and find it appropriate for my first composition students and myself as a writer. Writing With Power is Elbow's practical sequel to the sometimes-mystical, sometimes-spiritual writing without teachers. WWP provides teachers, students and writers with effective writing exercises and personal reflections on the writing process. I have already used several of Elbow's techniques, including his advice about developing a writers'apos ; support group, and am quite pleased with the results. This book is an essential companion for any writer - teacher.
The Title "Writing With Power" lives up to the promise

Derived From Web

, Jun 3, 2022

The title Writing With Power lives it all or rather explains the promise. Peter Elbow is a proponent of creative writing to loosen the mind and get your free inspiration in full gear. He does not subscribe to rules that are too stringent or that impede the flow of the writers. When working with a first draft, free writing is particularly good. Yes, you still have to do research, read a lot, brainstorm important ideas, outline and write well. This book goes a long way in showing the reader how to write with power.
So You Think You Want to Be a Writer?

Derived From Web

, Jun 3, 2022

The book of Elbow is my favorite text not only for writers, but also for anyone who needs to write. Elbow explains his own tortuous journey to good writing and admits that the only way he can get words on paper is to start with all the wrong words in all the good sentences. Reading this confession also helped me enormously, because I write in exactly the same way. I thought I was simply unkilled. Elbow helped me realize that in fact, all writers think differently, just as all writers write differently. While writing with power is a daunting quest, it is achievable. Elbow explains in readable, accessible prose how.
Surprisingly Insightful!

Derived From Web

, Jun 3, 2022

This book is well organized with clear bullet summaries at the end of each chapter, so that it is easy to skip for what you want. I am now motivated to write at least a little every day and have strong strategies for boosting my writing style.
Absolutely the best resource for effective writing; it is my go to book.

Derived From Web

, Oct 3, 2021

Mr Elbow has written a book that is both functional and transcendent. I often refer to it in my work as a freelance writer. It is my go-to resource. What I found particularly helpful are the practical approaches for overcoming the writer's block.
This book needs work

Derived From Web

, May 6, 2018

Had to get it for class and provides absolutely no use. The only reason I got it was for a class, but we did not take it either because it did not help in the final. This one passes just over this one.