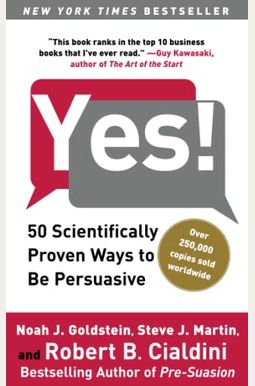 
 
Yes!: 50 Secrets From The Science Of Persuasion
Book Overview
Learn how small changes can make a big difference in your powers of persuasion with this New York Times bestselling introduction to fifty scientifically proven techniques for increasing your persuasive powers in business and life.
Every day we face the challenge of persuading others to do what we want. But what makes people say yes to our requests? Persuasion is not only an art, it is also a science, and researchers who study it have uncovered a series of hidden rules for moving people in your direction. Based on more than sixty years of research into the psychology of persuasion,
Yes
reveals fifty simple but remarkably effective strategies that will make you much more persuasive at work and in your personal life, too. Cowritten by the world's most quoted expert on influence, Professor Robert Cialdini,
Yes
presents dozens of surprising discoveries from the science of persuasion in short, enjoyable, and insightful chapters that you can apply immediately to become a more effective persuader. Often counterintuitive, the findings presented in
Yes
will steer you away from common pitfalls while empowering you with little known but proven wisdom. Whether you are in advertising, marketing, management, on sales, or just curious about how to be more influential in everyday life,
Yes
shows how making small, scientifically proven changes to your approach can have a dramatic effect on your persuasive powers.
Frequently Asked Questions About Yes!: 50 Secrets From The Science Of Persuasion
Books like Yes!: 50 Secrets From The Science Of Persuasion
Book Reviews
(14)
Did you read Yes!: 50 Secrets From The Science Of Persuasion? Please provide your feedback and rating to help other readers.
Simply Good Habits

Derived From Web

, May 24, 2022

The fact is that we communicate with a sensitivity as to how we are perceived. This collection of little known scientific studies documents what the person seems to know intuitively. Cialdini divides social psychology into six divisions : 1) Social proof studies 2) Reciprocation Tendency 3) Commitment and Consistency Response 5) Scarcity Reaction and 6) The Liking and Loving Response As another reviewer pointed out, the chapter titles are designed to create curiosity. An easy five stars for this extremely useful and well-written book. DB is a private company that produces products for sale.
Negotiation and Persuasion the Scientific Way

Derived From Web

, May 24, 2022

It documents the very new field of social influence clearly and concisely. Social influence is a way to morally get people to do what we want them to do. But this book is thousand times better than the best-selling books by authors such as Kurt Mortensen, Robert Bly, Ken Mc Arthur, Robert Bly, Kevin Hogan, John Munkman, etc. The reason for this is because the field of modern experimental influence is based on social psychology and its findings have been scientifically ratified and corroborated. This book is even better than its predecessor, Robert Cialdini's influence on the theory and practice. The only book on negotiation and persuasion that is better than this book is Dale Carnegie's, How to win friends and influence people? Be sure to apply this book, share its principles and promote and salary increase will surely be yours. The doctor Jusuf Hariman is.
Psychology in practice

Derived From Web

, May 24, 2022

In addition, Influence : The Psychology of Persuasion, Revised Edition '' is much better. Try it out and you know why.
Practical and Proven

Derived From Web

, May 24, 2022

In a world of hyperbolic claims of what people feel like, yes! No platitudes or theories. Just practical and proven ways to positively influence people without manipulation, but with solutions to solve both conscious and unconcious resistance to the decision and commitment.
I give a big 50 yes for your book!

Derived From Web

, May 24, 2022

Thank you for this interesting book, I learned a lot with real world stories that would illustrate the laws and make the book more interesting. Thank you very much.
Yes!

Derived From Web

, May 24, 2022

This book is a must read for any reason for anyone who deals with people in any way! Good business relationships, good for personal and family relationships! Should be taught in middle and secondary schools in high schools and repeated in collegeuniversities!
60% intuitive, 100% sciencey!

Derived From Web

, May 24, 2022

A lot of this strikes me as quite inspirational, but the book is packed with great influencing strategies in general. The most interesting part of it was that I was able to back up my intuitions with psychological studies, which then made them more persuasive. It should be called 51 scientifically Proven Ways to be Persuasive.
She did not find it helpful or useful at all

Derived From Web

, May 24, 2022

At my request, she bought this for my wife, who had a career in sales.
Excelente data empirica sobre influencia social

Derived From Web

, May 24, 2022

Con un estlo de articulos breves, fundamentados en investigacion empirica y con extrapolaciones aplicables a distintos ambitos el auto aborda el tema de la influencia social.
Communicating Your Ideas

Derived From Web

, May 24, 2022

No matter what you want to communicate, whether it is that you have a product that is new scientific or a useful theory, you want people to pay attention to, the information presented in this book will help you get your message delivered.