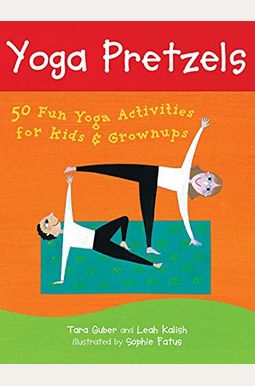 
 
Yoga Pretzels: 50 Fun Yoga Activities For Kids & Grownups
Frequently Asked Questions About Yoga Pretzels: 50 Fun Yoga Activities For Kids & Grownups
Books like Yoga Pretzels: 50 Fun Yoga Activities For Kids & Grownups
Book Reviews
(16)
Did you read Yoga Pretzels: 50 Fun Yoga Activities For Kids & Grownups? Please provide your feedback and rating to help other readers.
Yoga Poses - Named correctly or no?

Derived From Web

, Apr 20, 2022

This set of cards is a great addition to any deck. A lot of the reviews said that the poses were not named correctly, but my Step-Son seemed to know all of the names already from the Yoga classes we did in his daycare. I'm not familiar with yoga, but he likes it, and these are fun to do together, so I recommend this product.
fun yoga activities for any age

Derived From Web

, Apr 20, 2022

these are fun, great for stretching before bed, between activities on a rainy day, group activities, guided yoga poses - for any age! Get your endorphins going and enjoy the fresh air!
These are great fun! I recently used them at a kids ...

Derived From Web

, Apr 20, 2022

Great job, said Dr. Goin. I recently used them at a kids yoga class and the kiddos liked drawing a card and exploring the steps on the back to try a new pose, said Traci. I'm really looking forward to playing with the cards again, he said.
Great Resource!

Derived From Web

, Apr 20, 2022

I use my Yoga Pretzels deck in a class I teach for 6 to 8 year olds. The cards themselves are sturdy and the illustrations are bright and colorful. I let them pick a pose card from the deck and we learn all the poses together. I like to end each class with one of the breathe and time cards, because the games are great.
A great yoga set to have at home, especially with kids.

Derived From Web

, Apr 20, 2022

This book is full of cute pictures, simple instructions and thought-provoking questions. The impact of this program really begins to introduce the culture and mindset of yoga. The second line of the VBA code says, "Copy the object to another VBA file format." The card is stored in a robust, U.S. storage box, and is in good condition.
Kids Yoga Cards

Derived From Web

, Apr 20, 2022

These are just a few of the fun cards we made. I pick a few every week or two and leave them in a tray for my kids to play with while their yoga mats are still in place. They really enjoy trying different poses and are always excited to see when they have switched to new cards, Mrs Hughes said. The pictures provide a good explanation of each yoga pose and there are a variety of poses that include two or more people as well as many that are more relaxation suggestions. I think they're perfect to let children find and work on their own when quiet is needed, said Jennette Tamayo, a spokeswoman for the toy company. Younger children, perhaps as young as 3 or 4 years old, responded well to the instruction, the instructor said.
Perfect!!!

Derived From Web

, Apr 20, 2022

What a find! I am a total beginner and my children have never done yoga. These are just fantastic cards,' said Harrison. It's a great product, large, durable, colourful and so well explained. I love how each side has the pose and a little story and also exact instructions, like how to hold the pose, turn the corner and fold the paper, said Gillian. This means we can choose a few cards from each section to create a completely new routine each time. I am a teacher, and this could very easily be combined with the rest of the curriculum in a daily session.
Great for kids!

Derived From Web

, Jul 26, 2020

Physical Therapist Dr. Julie Goin said: "Many of our patients use these devices in their therapy. The potties are so popular, kids love them. Very nice set of instructions, said Dr. Goin.
Colorful and inviting yoga cards

Derived From Web

, May 28, 2020

These are great for my youngest yoga students. The artwork is very inviting and the back of each card has posture descriptions, cues and mindful meditations.
Disappointed in condition of storage box.

Derived From Web

, Dec 16, 2019

These are great, because I gave them that rating because they were really good, said Dr. Steve Yeates, of the Virginia Hospital Center. That said, I'm disappointed that someone picked and shipped me a crushed box. This was an error in shipping, FAA spokeswoman Kathleen Bergen said. It was a surprise, said Dr. Brian Kilpatrick, "because it came off the shelf like this." This is the storage box that holds all the cards, so it will only get worse with time. New Zealand's ambassador Peter Hollingworth said: "We're disappointed. Even with time, it's too late to return in time for Christmas. The whole thing is a travesty, I'm embarrassed to give a defective present. If you're looking for a book, I would suggest you go to a bookstore.