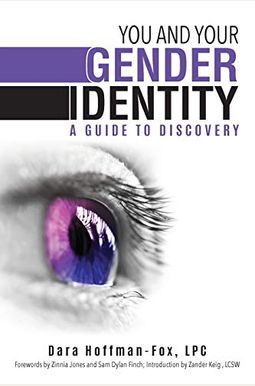 
 
You And Your Gender Identity: A Guide To Discovery
Book Overview
Are you wrestling with questions surrounding your gender that just don't seem to go away? Do you want answers to questions about your gender identity, but aren't sure how to get started?
In this groundbreaking guide, Dara Hoffman-Fox, LPC--accomplished gender therapist and thought leader whose articles, blogs, and videos have empowered thousands worldwide--helps you navigate your journey of self-discovery in three approachable stages: preparation, reflection, and exploration. In
You and Your Gender Identity
, you will learn:
Why understanding your gender identity is core to embracing your full being
How to sustain the highs and lows of your journey with resources, connection, and self-care
How to uncover and move through your feelings of fear, loneliness, and doubt
Why it's important to examine your past through the lens of gender exploration
How to discover and begin living as your authentic self
What options you have after making your discoveries about your gender identity
This unique, interactive guide can help you answer the questions you've been asking yourself
Frequently Asked Questions About You And Your Gender Identity: A Guide To Discovery
Books like You And Your Gender Identity: A Guide To Discovery
Book Reviews
(8)
Did you read You And Your Gender Identity: A Guide To Discovery? Please provide your feedback and rating to help other readers.
Really helpful when you're questioning

Derived From Web

, Sep 20, 2021

Well written guide to entice you through questioning your gender. There are lots of great resources here. For me, the best part has been dealing with the never-ending list of doubts I have. Probably I 'll come back to this for quite a while longer. The only issue I had is that a big chunk of it is dedicated to digging into your childhood. I'm sure that it is really helpful for many people. Personally, I'm old enough that was 20+ years ago and memories in general don 't stick around very long for me. I've got a big section that I could only use.
A great guide for identity exploration

Derived From Web

, Aug 26, 2021

I am a therapist and I was looking for a great workbook to help my gender-conscious clients really dig in and do the necessary self-exploration on that good but painful path to self-understanding. Dara Hoffman-Fox put together an incredible guide for this purpose. Dara asks for probing questions and provides so much validation throughout this book. This is a great book for anyone who is struggling to understand themselves or for anyone who knows they have dysphoria, but feels blocked or held back from embracing their true selves. I highly recommend this book if you are a therapist looking for something to help your clients, or if you are a person trying to understand your gender or gender identity.
wasn't what i hoped for

Derived From Web

, Sep 21, 2020

In a world filled with black and white thinking, I can only count on a book alone. I was disappointed with what options you have after making your discoveries about your gender identity because I don 't think it really looked at all at this. I found many questions were leading questions, and to be honest, there is nothing in this book that you can 't find on youtube or tumblr.
A very thoughtful, inclusive tutorial for every gender

Derived From Web

, Apr 24, 2020

As a male, non-dysphoric, heterosexual senior I was pleased to find beneficial content in later chapters, including male, non-trans. I was very happy to learn the chapter Test Hypothesis '' closely followed my intuitive process to assess personal responsiveness to feminine sex attributes. My Happiness Index '' feels 10 times greater upon differentiating style and presentation changes. Success may rely on having sufficient emotional space to focus on internal feelings without distraction and stress in response. My head has opened to the possibility that one's identity may become refined and shifted while exploring the path ''.
Thoughtful, well-written book that guided my gender identity exploration

Derived From Web

, Jan 31, 2020

This book is very thoughtful, organized and well-written, hitting so many useful ways to explore one's own gender identity. This book has all kinds of useful terminology that applies to a wide spectrum of gender identities, and this is awesome because putting my internal feelings into words has not been easy because my gender identity does not fit into the common, binary categories. I can not say enough good things about this book! My gender exploration journey, led by this book, has been life-changing. I recommend this book to people of all ages who want to know themselves better.
Super helpful

Derived From Web

, Aug 6, 2018

For many years, I have questioned my gender identity and worked very well. Of course, it does not give all the answers, but helps by asking yourself important questions that you may not have thought of before. It is a workbook, so that you can write in it. It is really inclusive and I really liked this book.
100% Me

Derived From Web

, May 2, 2018

It helped me to live my true self and stop the denial and self-destruction. It is my body and my soul. My decision was to be my whole identity, not just 50%. Life is too precious to deny a life as my true gender identity. This book helped me understand how I identify, that it is normal and accept that it is ok to present how I am most genuine. Dara Hoffman-Fox thanks you.
Amazing book

Derived From Web

, Feb 13, 2017

This book is a must have for anyone who questions their gender identity. I would recommend this to anyone who wants to feel their gender more fully or who has thoughts that they could be trans. It gives you all the tools to explore fully and delve into the question of what is your gender identity. I was already out when I read it, but I was still able to revisit important pieces of my childhood that I overlooked before giving me a clearer understanding of myself as a non-binary person. This is one of the best resources for us, so read it!