Buy 3 Get 1 Free
Our Best Sale Yet! Add 4 Books Priced Under $5 To Your Cart     Learn more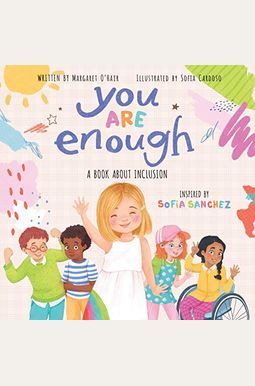 
 
You Are Enough: A Book About Inclusion
Book Overview
A beautiful and inclusive picture book all about celebrating being yourself from Down syndrome advocate and viral sensation Sofia Sanchez
It can be hard to be differentwhether because of how you look, where you live, or what you can or can't do. But wouldn't it be boring if we were all the same? Being different is great Being different is what makes you YOU.
This inclusive and empowering picture book from Sofia Sanchezan 11-year-old model and actress with Down syndromereminds readers how important it is to embrace your differences, be confident, and be proud of who you are. Imagine all of the wonderful things you can do if you don't let anyone stop you You are enough just how you are.
Sofia is unique, but her message is universal: We all belong. So each spread features beautiful, full-color illustrations of a full cast of kid characters with all kinds of backgrounds, experiences, and abilities.
This book also includes back matter with a brief bio of Sofia and her journey so far, as well as additional information about Down syndrome and how we can all be more accepting, more inclusive, and more kind.
Frequently bought together
Frequently Asked Questions About You Are Enough: A Book About Inclusion
Book Reviews
(10)
Did you read You Are Enough: A Book About Inclusion? Please provide your feedback and rating to help other readers.
Great message about disabilities and diversity

Derived From Web

, Jan 22, 2022

This is the story of Sophia, a young girl who lets her light shine. The message is that everyone, however diverse, is important and valued. While Sophia's disability is not specifically mentioned in the story itself, we learn in the future that Sophia has down syndrome and is a well-known model and quite the personality. The illustrations show characters with limb differences, in wheelchairs that are blind, as well as racial and cultural diversity. If everyone was the same, it would be boring if everyone was the same? The illustrations in this book are beautiful and the story teaches a great lesson about accepting who you are as well as what others are.
A beautifully positive book for children!

Derived From Web

, Apr 25, 2021

This story is written simply and aesthetically beautiful. A wonderful way for primary educators to open conversations about individuality and what makes each person unique, especially if your classroom has students with exceptional needs. I encourage all educators and families to begin these conversations around the preschool kinder age so that we can all reduce any existing stigma about our friends with special needs or anything that can be considered a difference. I love that this book promotes acceptance, empathy, and KINDNESS. I love that this book is promoting acceptance, empathy, and KINDNESS. The illustrations are bright and colorful. It is a story that has many short and empowering messages - things we want to hear from our children and mantras for us all to live, You are Enough!
Well Illustrated, Inclusive Book with Great Message

Derived From Web

, Mar 28, 2021

Such a sweet book! Such a sweet book! I have two special needs children and I love reading books that show kids with a range of abilities. The book had a great message about being proud of who you are. The pictures are also lovely.
A refreshing new book about disability pride and inclusion

Derived From Web

, Mar 4, 2021

Too often, disability pride is missing in children's books about disabilities and differences. Unlike most children's books about disability, the audience in You Are Enough is actually the child with a disability themselves. Yes, you hope that non-disable students will read and love it, but the book wants children with disabilities to take pride in who they are. Yes, YOU ARE ENOUGH!
Shout inclusion

Derived From Web

, Mar 4, 2021

I LOVE this book! I've always loved this book! This book is SO important and this book amplifies the need for inclusion. Everyone needs a copy of this book! Everyone needs a copy! !
Must Buy!

Derived From Web

, Mar 3, 2021

We loved the book! We loved it ''. My daughter is four and is beginning to notice the differences in people around her. It was a beautiful book written and illustrated with a well-written and illustrated message that it is okay to be different because everyone is different. Hoping this sets the bar to have more books out there about inclusion because it is such an important thing to have, especially in the world we live in today. We also enjoyed reading about Sophia and her story and her story. She seems to be such a fierce and determined role model who can push through just about anything! The book is very inspirational and I recommend it highly! ! !
So much LOVE for this book!!!!!

Derived From Web

, Mar 3, 2021

I am a mother of three and also manage a nonprofit that serves children and adults with special needs. Regardless of our abilities, history and important messages in this book resonate with all of us. It is all about focusing on what makes each of us unique and special. Its about putting the person first. We received our book yesterday and my children have already asked me to read it 3x! They are 6 and 3 and they are 6 and 3 and they ask the best questions while we read. It was a complete parenting win to discuss what it means to be kind, inclusive, accepting and understanding. What it means to be supportive and to look at the person, the whole person. The book also comes with awesome facts about Down Syndrome and provides examples of how to speak about it with your children! It is incredible! I have already bought copies for my friends and RAD Camp! for our non-profit organization, I have already bought copies! Its a must read, must buy!
A must buy for every child!!!!

Derived From Web

, Mar 3, 2021

This book was absolutely amazing! The illustrations are so bright and inviting and the message of the book is uplifting and inclusive! This is a must have for every child! All children are enough :
WHAT A JOY this book IS!!!!!!

Derived From Web

, Mar 3, 2021

Oh my goodness, we could not LOVE MORE this book!!!!! Oh my goodness, we could not LOVE MORE this book! It is the WHOLE PACKAGE!!!!! Such a special•wonderful messagestory, written BEAUTIFULLY, the illustrations are just gorgeous... the list goes ON! We love this book immensely... for all reasons... We love this book! We purchased 5 copies and have already preordered 3 more! Our daughter, pictured above, has been glued to her copy since it arrived on Sunday afternoon! !
A beautiful story- one everyone needs to hear these days

Derived From Web

, Mar 2, 2021

This book is the sweetest story that has a very important message-especially today. The fact that the message comes from the point of view of a small girl with Down syndrome is beyond amazing. The illustrations in this book gave me goosebumps as they portray children of all backgrounds and abilities. As I read it to my son, he asked questions about some of the characters, which was the perfect opportunity to teach him about others who might be different from him, including his own sister, who also has down syndrome. Sofia Sanchez is making strides in the world, in the world of Sofia Sanchez. Not only is she paving her own way, but also makes the path clearer for others. Buy this book! Buy this book! '' It will probably make you cry, but in a good way.