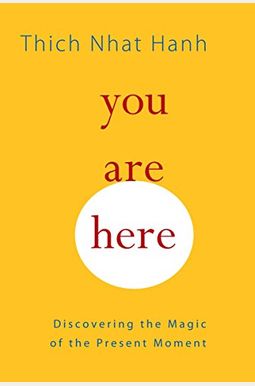 
 
You Are Here: Discovering The Magic Of The Present Moment
Book Overview
This Description may be from another edition of this product.
This moment is the gateway to enlightenment. It is the only moment we have to be joyful, mindful, and awake. The key is to be there for yourself--to learn to be fully present in your life. This, Thich Nhat Hanh explains, is the heart of Buddhist practice.
In this introduction to the practice of presence, the beloved Buddhist teacher provides indispensable insight on the essentials of Buddhist thought and offers a range of simple, everyday practices for cultivating mindfulness. These teachings empower us to witness the wonder of life and transform our suffering, both within us and around us, into compassion, tenderness, and peace--not in some long and hard struggle, but in this very moment. As Thich Nhat Hanh declares, the energy of mindfulness is the energy of the Buddha, and it can be produced by anybody. It's as simple as breathing in and breathing out.
Frequently Asked Questions About You Are Here: Discovering The Magic Of The Present Moment
Books like You Are Here: Discovering The Magic Of The Present Moment
Book Reviews
(15)
Did you read You Are Here: Discovering The Magic Of The Present Moment? Please provide your feedback and rating to help other readers.
The best book I've ever read!

Derived From Web

, Apr 20, 2022

I've read many self improvement books. I am a follower of Jesus and have always been willing to learn and improve myself. Everything I've read tells me what to do but never how to do it. This book has given me a path to follow to achieve peace and happiness. I have a simple yet powerful tool to achieve self-control, happiness, awareness, and most of all to start living life for the first time in 47 years! I would like to thank the teacher.
A gem.

Derived From Web

, Apr 20, 2022

This is quintessential Thich Nhat Hanh, which is very readable and presents the same message about the importance of being in the present moment. A gem.
Simple beautiful wisdom

Derived From Web

, Apr 20, 2022

The book is very easy to read and useful. Christians and other faiths will find this useful. I've read it twice this summer and will read it again in the future.
excellent for those experiencing grief

Derived From Web

, Apr 20, 2022

This book was given to me after my husband's death. Over the years, I have read and re-read it. I have been able to stay grounded in the present instead of worrying about the future. I was raised a Christian and found the readings helpful.
Inspiring and profound

Derived From Web

, Apr 20, 2022

I'm a newcomer to the writing of Thich Nhat Hanh, but it has come into my life at the right time. This book has changed the way I see the world. Highly recommended.
Be mindful today

Derived From Web

, Apr 20, 2022

The book should be read by every therapist who practices CBT or Solution focused therapy. It's good for people who are just looking for a way to lead a more conscious life.
So insightful

Derived From Web

, Nov 16, 2021

There is a lot of information in his other books, but I still find useful insights. If you are looking for something to think about before meditating, this is a good read.
Enlighten yourself by knowing who you really are

Derived From Web

, Jul 24, 2021

In the most simple way to understand writing, Thich Nhat Hanh has explained who we are in this book. It is a great gem. You will be on your way to nirvana if you read it and Hanh's "The Other Side" one after the other. These two books are outstanding, I am a Buddhism teacher. I recommend both of them.
Each of us are here

Derived From Web

, Apr 23, 2021

Take a moment to read this wonderful teaching on how to be present now. Thay takes the profound and applies it to life as it is.
An Absolute Masterpiece.

Derived From Web

, Feb 20, 2021

It took me a month and a half to read this book. I read this book as slowly as possible, even though that is not entirely accurate or inaccurate. I made sure I didn't skim. The book is life changing. This is the first book that I have read in its entirety in decades, as well as the first book that shook me to my core, to the point that my eyes watered in happiness as long as you are willing. I want to read this again. Long live impermanence!