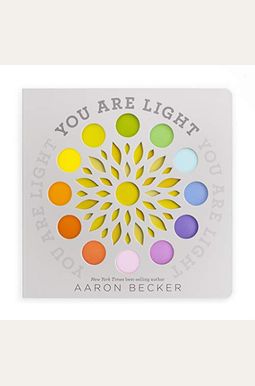 
 
Frequently bought together
Frequently Asked Questions About You Are Light
Book Reviews
(14)
Did you read You Are Light? Please provide your feedback and rating to help other readers.
Beautiful Book With Wonderful Meaning

Derived From Web

, Jun 8, 2021

I was a former child therapist and this book is by far the best. Not only will the kids love looking through the holes, they will also love the light shining through the colors, and be told they are the light. The book is the only one I have ever read that has entertained my grandson for 1.5 years and my granddaughter for 3.5 years. This is bound to be a book that will be cherished for many years to come. Just about everything about this kid is so unique, so curious, so little.
Special Book

Derived From Web

, Mar 28, 2021

Each book comes with colorful cut-outs on each page, perfect for creating collages. Holding on to a sunny window is especially fun when you read! Everything is connected, everything is made of light. The look of wonder on my nephew's face when we finished it was priceless. This book is truly a special one.
Not a good message

Derived From Web

, Jan 27, 2021

This book was given as a gift, it is the first time I initiated a return on a used book. While the book is beautiful, the message of the book is very new age. It does not fit in with our family's values at all. He is the light within us. Please be cautious when giving as a gift.
Easy and Very Tempting to destroy -

Derived From Web

, Oct 9, 2020

Now he wants to poke the color dots out of the book. I had no intention of making a video, but I wanted to love it because it was pretty.
Shine, Little Glowworm

Derived From Web

, Aug 15, 2019

The rhyming message that we are all gleaned from the same energy that spins in a continuous cycle, feeding and nurturing each other, is a timeless tale. I didn't read the back of the book until after I'd finished it, but I knew what I had to do to hold it up to the light! Each page is filled with little circles inlaid with colored plastic cels. When held up to any light source, the panels absorb and enhance the stenciled pictures. This is a book that is a visual and sensual indulgence, featuring the cut-out cover and watercolor images of Jackson. It's almost a shame to let children have it because you know it will become stained, torn and ripped apart by their hands. But perhaps the discerning child will handle this book gently, knowing that with care its hard cardboard pages will last for the next generation to adore and appreciate.
It's very pretty

Derived From Web

, Aug 9, 2019

It was my 3 year old that bought it. It's beautiful, and that was the only reason I kept it. The message is sweet but I regret not buying it a year or two ago. The product description says it is "high quality" but I find it hard to believe that an age range of this product would be so broad.
Lyrical and beautiful. A must have for your library

Derived From Web

, Jul 24, 2019

The little see-through color discs on every page make the experience of reading the book magical, especially if you sit in front of a window and let the child look through the colorful panes of glass. It's very interactive and starts the discussion of colors and color mixing, albeit very high-level. After seeing how much my son enjoyed it, I bought a copy for him in his classroom. This would be a wonderful book to give new parents because of the poetic words, he said.
Lovely!

Derived From Web

, Jul 7, 2019

This is a beautiful little book, Mary. It's great to have my toddlers play with it. I always read it in front of a sunny window so the light shines through the little windows of color, creating such a stunning effect. Even as an adult, I find the way the colors overlap and mix to be fascinating. The writer of this terrible parable in the "Persuasion" series, Charlotte Bronte, said the "lovely" text was "soothing and comforting." I usually read it twice in a row, Mr. Rule told the judge. This book makes a great gift as well -- we gave copies to all of their teachers at the end of the school year and will likely buy more as gifts in the future.
Very pretty, but sparse on text.

Derived From Web

, Jun 17, 2019

It's pretty, you can hold it up to the light and see the glowing colored plastic lenses. The only thing I can think of is that the entire text is just a few lines. If I had the money, I would have bought it from the library, but I'm not that interested.
A real gem

Derived From Web

, Mar 29, 2019

I have received many, many, many books from this wonderful woman. The best part is that you can repeat them over and over to your kids. The illusionist's work is truly magic, the New York Times said. It's beautiful to look and feel beautiful to read. What a great way to spend quality time with your children, said Dr. Chester Floyd, director of pediatric neurosurgery at Boston Children's Hospital.