Buy 3 Get 1 Free
Our Best Sale Yet! Add 4 Books Priced Under $5 To Your Cart     Learn more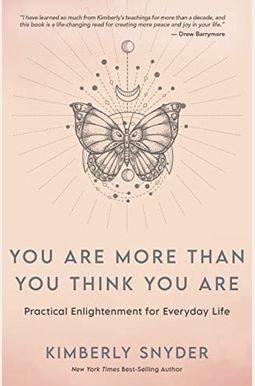  
You Are More Than You Think You Are: Practical Enlightenment For Everyday Life
Frequently Asked Questions About You Are More Than You Think You Are: Practical Enlightenment For Everyday Life
Book Reviews
(8)
Did you read You Are More Than You Think You Are: Practical Enlightenment For Everyday Life? Please provide your feedback and rating to help other readers.
It will improve your life!

Derived From Web

, Mar 8, 2022

This book is structured well, the content is well-written and the helpful practices are included, Morgenthau said. The best part is that she comes across like a good friend talking to you, but there are a lot of nuggets of wisdom in the book. Thanks to this book, I feel I can take it to a deeper level through simple changes that don't take a lot of time. She also includes some useful reframing of your mindset that has made a huge shift in how I approach work both personally and professionally.
I am so grateful for Kimberly

Derived From Web

, Mar 8, 2022

I'm so grateful I listened to my intuition and bought Kimberly's book after Deepak Chopra interviewed me about it! I've fallen in love with all the Yogananda quotes in the book. She breaks down the yogic texts into layman's terms so we can practically use them in our lives. Best part is I'm obsessed with her podcast now too, her free amazing meditations on the Solluna app, her amazing recipes and her serene voice. I feel so grateful I listen to her book. It's definitely helping me trust life, love myself and others more, giving me more TRUE confidence, and I'm way more consistent with my meditations now which has always been a struggle for me to stick with, she said. Kimberly thanked us in person.
Practical playbook

Derived From Web

, Feb 27, 2022

In her book, "Do the Right Thing," Kimberly shows how to make your life more fulfilling. Many books make the true self seem like a "carrot" chased after with very few succeeding. From the very first page, Kimberly leads you on this path, successfully, lovingly and openly. I know this book will become a daily staple, with many rereads to apply and practice the meditations, exercises and journaling. This book is a must have!
Don't hesitate - just buy!

Derived From Web

, Feb 10, 2022

I have changed who I am forever because of this book. This is not your next self-help book, no... this is much more. The more you feel connected to who you are and the energy within you, the more you will find your calling. You will begin to make positive changes because you can feel the change in your spirit and you'll want to project that in to every aspect of your life. In just one week of reading this book, I have changed my diet, my daily routines and even started working out for the first time in two years. The book helped me to feel whole again which is the driving force behind real, true, and deep change, Raymond said. In addition, I have purchased 7 books and have given away these to my loved ones. I hope this book finds you the same as it has me because you will never be the same!
Powerful and Practical

Derived From Web

, Feb 9, 2022

I have been following Kimberly Snyder and reading her books for a decade now and this is the best one yet. It is ably written with a lot of valuable information about ancient spiritual philosophies and teachings, but is written in a way that is easy to understand, said Pauley. She shares practices that can be done daily that don't feel intimidating and can help you connect with your spiritual self. Jenn has helped me find practical ways to handle my anxiety and truly take care of myself. But she does it all in a loving, nonjudgmental way that makes you feel like you're talking to a friend or sister. I bought the book for myself and a friend to do a sort of book study, and then purchased the audible version, which I can listen to in the car or on my walks, so I won't have to wait and only read when I have a chance to sit down. There are so many good books out there, so many good people.
Genius!! Pure bliss. A Must Read!!

Derived From Web

, Jan 30, 2022

I am so excited about the book, Bruno said. Kimberly did it again! In this book, you learn how to lovingly ease away from the ego, the monkey mind, and effortlessly go within to step into your TRUE SELF. The book is a perfect fit for a quick read, easy to understand format. It will flow by, because it is so fun to read, Habo said. Very practical and easy breathing techniques, simple meditations, visualizations, positive affirmations and mantras have been used for thousands of years by masters of success. It's great to have a book on school reading lists. Even if the NIH didn't fund it, children would benefit from it. You are More You Think You Are. An absolute gem, Michael. It's just that you will love it. It's great to be back home, said Blair.
Life-Changing Book

Derived From Web

, Jan 29, 2022

What I love about this book is that it's so accessible, said Dr. Julie Goin, who co-chaired the inquiry. Kimberly's writing style is refreshing for someone who has not dabbled in reading books about spiritual growth. She breaks down easy, but grounded, practices for topics such as how to overcome fear, discovering purpose and accessing more peace in life. It's one of the first books where I've actually underlined passages, because there are so many incredible nuggets of advice and information that I'll want to come back and help keep me centered and feeling more whole, she said. Sarah Quinn, The New Republic's senior staff writer, called the book "a must-read."
GAME CHANGER

Derived From Web

, Jan 28, 2022

I couldn't be more happy that I got this book and that I continue on the path of changing my WHOLE life, he said. Leaning into my TRUE SELF and WHOLENESS has required a lot of digging and un-layering, and I trust that I'm transforming from the inside out, she wrote. These practical tools, and Kimberly's sweetness and generosity, are beyond inspiring. Our Solluna Circle and Kimberly's enlightenment meditations, food philosophies and our lives are also game changers. I am getting out of pretty dark waters because I am in it -- stillness, individuality, and tapping into my own source of strength, he said. I'm diving deeper into my one-to-one-ness, my true self-confidence and happiness. Get your copy of The Age of Persuasion now and listen to Gillian Pearson's podcast too.