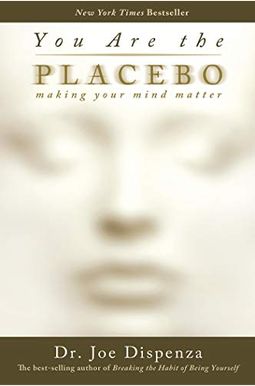  
You Are The Placebo: Making Your Mind Matter
Book Overview
This Description may be from another edition of this product.
Is it possible to heal by thought alone--without drugs or surgery? The truth is that it happens more often than you might expect. In You Are the Placebo, Dr. Joe Dispenza shares numerous documented cases of those who reversed cancer, heart disease, depression, crippling arthritis, and even the tremors of Parkinson's disease by believing in a placebo. Similarly, Dr. Joe tells of how others have gotten sick and even died the victims of a hex or voodoo curse--or after being misdiagnosed with a fatal illness. Belief can be so strong that pharmaceutical companies use double- and triple-blind randomized studies to try to exclude the power of the mind over the body when evaluating new drugs. Dr. Joe does more than simply explore the history and the physiology of the placebo effect. He asks the question: Is it possible to teach the principles of the placebo, and without relying on any external substance, produce the same internal changes in a person's health and ultimately in his or her life? Then he shares scientific evidence (including color brain scans) of amazing healings from his workshops, in which participants learn his model of personal transformation, based on practical applications of the so-called placebo effect. The book ends with a how-to meditation for changing beliefs and perceptions that Read More chevron_right
Frequently Asked Questions About You Are The Placebo: Making Your Mind Matter
Books like You Are The Placebo: Making Your Mind Matter
Book Reviews
(7)
Did you read You Are The Placebo: Making Your Mind Matter? Please provide your feedback and rating to help other readers.
I LOVE THIS BOOK

Derived From Web

, Apr 20, 2022

I really like this book. It's a great read and well written. I have not finished reading it yet. I am halfway through the book and the author is a great way to explain scientific material, provide supportive evidence, and bring it all together in the connection between the mind and body.
but I have to say this is his best book yet

Derived From Web

, Apr 20, 2022

I've been a fan of Joe for a long time and this is his best book yet. He explains the science behind the true power of the mind, how we shape our reality, affect our bodies and general health, and what we can do to change what is not working for us. I signed up for a progressive workshop after listening to this TWICE on my long road trip. There is very exciting stuff here. What about the placebo research? That is fascinating!
Fascinating, Amazing, Empowering!!

Derived From Web

, Apr 20, 2022

I'm always eager for the next book to be created by Dr. Joe. You Are The Placebo has re-energized and re-placebo'd me into making my mind matter, once again, re-inventing myself at levels limited only by my imagination. The better it gets, the better it gets. That's how I feel about Dr. Joe's work. You Are The Placebo is in my library. I plan on reading, re-reading, meditating, contemplating and placebo'ing my self to the highest aspect of my being, to live at my zenith, in the fullest, most exciting, creative, unique healthy and whole expression of theDivine! I'm going to Placebo. Tuck Self.
Love these books

Derived From Web

, Mar 30, 2021

There is always a new perspective on viewing life. This was a good read. I definitely recommend.
Don't forsake actual medical science...

Derived From Web

, Feb 20, 2018

I'm all for positive thinking, but suggesting that your state of mind can reverse your cancer diagnosis is too far away for me. I only recommend this book to skeptics that can weed out the garbage because there is some really good stuff in it. Almost every case in this book is interesting, but they are all statistical outliers, cherry-picking to line up with Dr Dispenza's beliefs. This is a great book for a person looking to get into meditation or for someone who has given up on medical science, but anyone else should take it with a grain of salt.
A must read for everyone

Derived From Web

, Nov 4, 2017

Everyone can benefit from the information presented in this work. I recommend this to anyone who is struggling with anxiety first, but I am sure it can be useful with other things as well. Buy it!
Goid info but not necessarily helpful.

Derived From Web

, Feb 19, 2017

The book has good information, but Dr. Dispenza doesn't tell you how to use it. I would have liked more information on that.