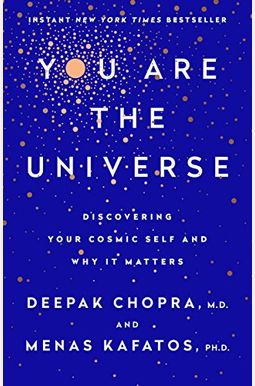 
 
You Are the Universe: Discovering Your Cosmic
Book Overview
Now a New York Times Bestseller A riveting and absolutely fascinating adventure that will blow your mind wide open --Dr. Rudolph E. Tanzi
Deepak Chopra joins forces with leading physicist Menas Kafatos to explore some of the most important and baffling questions about our place in the world. What happens when modern science reaches a crucial turning point that challenges everything we know about reality? In this brilliant, timely, and practical work, Chopra and Kafatos tell us that we've reached just such a point. In the coming era, the universe will be completely redefined as a human universe radically unlike the cold, empty void where human life is barely a speck in the cosmos.
You Are the Universe
literally means what it says--each of us is a co-creator of reality extending to the vastest reaches of time and space. This seemingly impossible proposition follows from the current state of science, where outside the public eye, some key mysteries cannot be solved, even though they are the very issues that define reality itself: What Came Before the Big Bang?
Why Does the Universe Fit Together So Perfectly?
Where Did Time Come From?
What Is the Universe Made Of?
Is the Quantum World Linked to Everyday Life?
Do We Live in a Conscious Universe?
How Did Life First Begin? The shift into a new paradigm is
Read More chevron_right
Frequently bought together
Frequently Asked Questions About You Are the Universe: Discovering Your Cosmic
Book Reviews
(6)
Did you read You Are the Universe: Discovering Your Cosmic? Please provide your feedback and rating to help other readers.
Enlighten

Derived From Web

, Dec 27, 2018

One of the best books I have ever read in my life! I love it really ''. I recommend with all my heart ''.
Stimulating read

Derived From Web

, Apr 26, 2018

Just loved this book, plus when I saw Deepak in person, he signed my book. So much information is a stimulating thoughtful read. Not just your usual metaphysical book, lots of quantum ideas that make you think outside the box, but I needed to think about what I had read to really allow it to sink into my mind.
Dr. Chopra hit his peak with Quantum Healing and ...

Derived From Web

, Nov 4, 2017

You are the universe that goes on and on about scientific nonsense while really saying absolutely nothing. The entire book can be summarized as : you are the universe because you have consciousness. I realize that Chopra is attempting to add new ways of thinking about science and metaphysics. There are sound points to consider energy, time and eternity if you can get past the unnecessary detail.
Lots to ponder in this book. Deep reading, ...

Derived From Web

, May 12, 2017

In this book, lots of questions to ponder. It can change the way you look at the world!
Deepak gets us thinking

Derived From Web

, Mar 21, 2017

I love books that really make me think. He begins with a primer on science, but at the end veering to the spiritual, he makes a compelling argument for a conscious universe. The journey was loved!
This book is a masterpiece ~ A spiritual and scientific journey into the reality of our own existence

Derived From Web

, Feb 14, 2017

Deepak Chopra and Menas Kafatos created a masterpiece in You Are the Universe ''. This highly mysterious and infinitely readable book offers a roadmap to our very existence. It connects spirituality with hard science and addresses the pertinent questions about our very reason for being. What is our goal here, why are we here, what role do we play in the cosmos? These are important questions that are explored thoughtfully in this book. The material presented here is probably the most important and enlightening that you'll ever read.