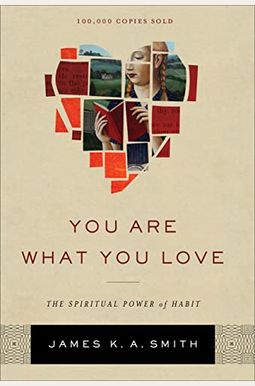 
 
You Are What You Love: The Spiritual Power of Habit
Frequently bought together
Frequently Asked Questions About You Are What You Love: The Spiritual Power of Habit
Books like You Are What You Love: The Spiritual Power of Habit
Book Reviews
(10)
Did you read You Are What You Love: The Spiritual Power of Habit? Please provide your feedback and rating to help other readers.
Amazing work, and what all Christians need right now

Derived From Web

, May 1, 2022

I wish I had had had this book years ago. It would have saved me a lot of wasted years wandering through the desert of a confused and non-existent Christian life. What we do and what we love shape our lives and how they turn out. If you want to know the future of truth, and the Christian faith, and how you can apply it to form your life, then read this book and never look back.
You are what you love!

Derived From Web

, May 1, 2022

Great book about the liturgies we already participate in and the need to recalibrate them toward the One who created us, he said.
You Are More than Your Brain

Derived From Web

, May 1, 2022

In The Book of Matthew, James K. Smith seeks to answer the question of why engaging Christians can't seem to follow what they know to be right. What's more, Smith says, the problem is how we understand ourselves as humans. Our brains are not thinking primarily of beings. What if there was more to the story? What if our desires, rather than our intellect, are the main motivators for actions? In a stunning admission, the Beatles' manager Paul McCartney said: "How shall we live? This is a great resource for Christian leaders and congregants who are looking to have Jesus with their WHOLE body, not just their brain.
Excellent book!!

Derived From Web

, May 1, 2022

Paul Robinson's book "Open Heart" was one of the defining Christian works of the 20th century. Smith challenges us to look at competing in today's world by contrasting relevant present-day examples with our historical Christian heritage. I found this book considerably easier to read than some of his other writings, but that does not mean he has exchanged or dumbed down any of the profound truths expressed in it. It's a great read, but I wish I could give it a 10 out of 10, two thumbs up and 5 stars.
Lets bring back the Medieval Church.

Derived From Web

, Oct 29, 2020

The author has no interest in Evangelical Christians. He insists that the liturgy of the middle ages is where the church should be. He considers Evangelical Churches to be trying to re-invent the Church where they are actually attempting to restore the Church. The New Testament church was formed by Abraham, Paul and Timothy. That is more the model of the Church than the top heavy-handed state that rejected Luther. He then creates arguments by changing the definitions of words and creating new ones to make the change seem reasonable.
You Are What You Love and I Love This Book!

Derived From Web

, Apr 29, 2020

Thanks to Anthony Spallone, a lawyer who helped organise the meeting. It happened over dinner that night, and we were talking about good books, too, he said. What a blast!, said the interviewer, as if she were speaking in a foreign language. It took me a long time to get to this book! I wish I had picked it up the next day. Even though this book's content is very similar to that of Sir William's "Desiring the Kingdom," I found the presentation of the content to be superior. Pauley, one of the book's co-authors, said: "I highly recommend this book for all Christians and especially church leaders." Even if you think about it, almost half the book is highlighted for me. One new habit I will be sure to implement is to encourage church members to read this book. And I think I will be reading this again with my wife. He added: "I have already got the elders of our church to start going through it with me."
Desiring the Kingdom in Simple Language

Derived From Web

, Mar 4, 2019

While we may affirm something on an intellectual level, our desires and habits will ultimately show what we really love. I've loved the Lord of the Rings movies, but I appreciated this work even more. Even the seemingly benign habits like the use of our smartphones or going to the mall had a determinative effect on how I felt about the world around me, he said. The bit about the mall as a secular worship of place worshippers of consumption was a spot on cultural assessment. In fact, the writer of the infamous passage said, "Many years later, I would marry her."
A Powerful Dose of Truth

Derived From Web

, Nov 17, 2018

This superb book will stimulate those who read it carefully and to a deeper and more hopeful journey of life. Smith may have undersold the importance of conscientious thought to the well-lived life, but he should not be accused of discarding it. It must be in the discussion of life choices or all is lost, Levine said.
A lot of great quotable and thought-provoking statements

Derived From Web

, May 22, 2018

He's witty, quotable, and thought-provoking. So many practical applications of this writing, Sosa said. The leanings toward liturgical and traditional worship weren't as helpful to me, but I was able to formulate other antidotes to counter the coming of the culture around me. Thanks for the tip, and I just bought 2 more to share with friends.
... big takeaway I got from You Are What You Love is that our habits (called "liturgies" in the book) ...

Derived From Web

, Apr 19, 2017

The big takeaway I got from You Are What You Love is that our habits don't just reveal what we love, but they actively form and influence our affections. The implications are huge for how churches disciple believers and also structure their worship services. I know of people who left more liturgical churches because all the bells and whistles did nothing to move their affections, he said. For now, it works for some people but not others. He added that contemporary churches need to be more intentional about everything they do and evaluate the implications of their practices. I think we are at the point where we need to think about the book and process it.