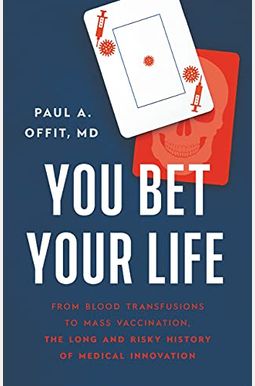  
You Bet Your Life: From Blood Transfusions to Mass Vaccination, the Long and Risky History of Medical Innovation
Book Overview
One of America's top physicians traces the history of risk in medicine--with powerful lessons for today
Every medical decision--whether to have chemotherapy, an X-ray, or surgery--is a risk, no matter which way you choose. In
You Bet Your Life
, physician Paul A. Offit argues that, from the first blood transfusions four hundred years ago to the hunt for a COVID-19 vaccine, risk has been essential to the discovery of new treatments. More importantly, understanding the risks is crucial to whether, as a society or as individuals, we accept them. Told in Offit's vigorous and rigorous style,
You Bet Your Life
is an entertaining history of medicine. But it also lays bare the tortured relationships between intellectual breakthroughs, political realities, and human foibles. Our pandemic year has shown us, with its debates over lockdowns, masks, and vaccines, how easy it is to get everything wrong.
You Bet Your Life
is an essential read for getting the future a bit more right.
Frequently Asked Questions About You Bet Your Life: From Blood Transfusions to Mass Vaccination, the Long and Risky History of Medical Innovation
Book Reviews
(10)
Did you read You Bet Your Life: From Blood Transfusions to Mass Vaccination, the Long and Risky History of Medical Innovation? Please provide your feedback and rating to help other readers.
Risk comes with reward

Derived From Web

, Dec 29, 2021

Over the last 200 years, there have been many problems and mistakes in medical advancement. It's amazing to think that we had a FDA.
Book for Our Time

Derived From Web

, Dec 26, 2021

The book is fascinating. Each chapter takes on a medical advance and describes the mistakes and sacrifice made, developing each into it's present form. The populace would have a better perspective on the risks of medical advances if the book were widely read. Discrimination and understanding of the scientific process is something that is missing in the minds of many antivaxxers.
For Everyone to Read

Derived From Web

, Dec 21, 2021

The case for vaccination is presented by Dr. Offit in a brief history of medicalpharmaceutical progress. The early difficulties and deaths that are rarely discussed should be remembered as health advances without controversy. Todays' regulatory approvals are the safest ever because of the laws and processes brought about by the developments of these advances. A good read for those who took high school general science.
Very informative, interesting history showcasing the difficulties/risks that inevitably attend the introduction of medical innovations.

Derived From Web

, Nov 18, 2021

The author makes the topic infinitely more accessible and readable by focusing on the people at the center of medical innovations. While celebrating medical progress, it reminds us that there are no silver bullets.
Some unforgivable imprecisions

Derived From Web

, Nov 15, 2021

A chapter dedicated to anesthesia, nitrous oxide and chloroform is included in the book which deals with the balance between risks and benefits of therapies. I found that fires and explosions due to ether were common until the 1950's, and were not limited to the 1800's. Electric equipment was becoming common in the 1900's, even though open flames for light were not used in the 1950s. The spark from their use was the most likely cause of the explosion fire. Anesthesiologists use nimbus oxide not only in the dentist's office, but in other places as well.
Life is a risk

Derived From Web

, Nov 13, 2021

I didn't know the history of medical discoveries that we used daily in my life. These doctors were pioneers. When results are fatal or less than expected, patients and parents look back. The difference between the vaccines and their unknown risks vs those who chose to wait or do nothing is what datememe is all about. The book should make practicing physicians humble each day.
Always enjoyable

Derived From Web

, Nov 12, 2021

Will read what he writes. I think about both sides of the argument when making valid points.
A must read

Derived From Web

, Oct 27, 2021

This book should be read by everyone who is interested in knowing about the risks of medical treatments. He gives a history of the treatments that he wrote about. I am only 50 pages into the book and it has been an amazing read.
Shows the historical balancing between risk and benefit

Derived From Web

, Oct 23, 2021

The benefit and risk of many drugs have caused controversy. Maybe all the medication. The author shows us some historical examples. Early antibiotics, diphtheria, and others.
Well written information on some of Medicines great catastrophes

Derived From Web

, Oct 8, 2021

Dr. Offitt places a number of medical tragedies in perspective in a way that is entertaining.