Buy 3 Get 1 Free
Our Best Sale Yet! Add 4 Books Priced Under $5 To Your Cart     Learn more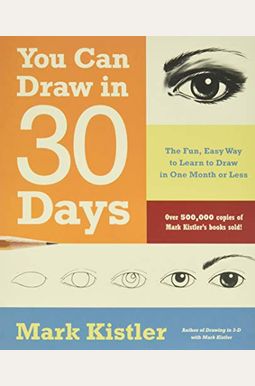 
 
You Can Draw In 30 Days: The Fun, Easy Way To Learn To Draw In One Month Or Less
Book Overview
Learn to draw in 30 days with public television's favorite drawing teacher. Drawing is an acquired skill, not a talent--anyone can learn to draw All you need is a pencil, a piece of paper, and the willingness to tap into your hidden artistic abilities. You Can Draw in 30 Days will teach you the rest. With Emmy award-winning, longtime PBS host Mark Kistler as your guide, you'll learn the secrets of sophisticated three-dimensional renderings, and have fun along the way. Inside you'll find:
Quick and easy step-by-step instructions for drawing everything from simple spheres to apples, trees, buildings, and the human hand and face
More than 500 line drawings, illustrating each step
Time-tested tips, techniques, and tutorials for drawing in 3-D
The 9 Fundamental Laws of Drawing to create the illusion of depth in any drawing
75 student examples to help gauge your own progress
In just 20 minutes a day for a month, you can learn to draw anything, whether from the world around you or from your own imagination. It's time to embark on your creative journey. Pick up your pencil and begin today
Frequently Asked Questions About You Can Draw In 30 Days: The Fun, Easy Way To Learn To Draw In One Month Or Less
Books like You Can Draw In 30 Days: The Fun, Easy Way To Learn To Draw In One Month Or Less
Book Reviews
(12)
Did you read You Can Draw In 30 Days: The Fun, Easy Way To Learn To Draw In One Month Or Less? Please provide your feedback and rating to help other readers.
You really can draw in 30 days

Derived From Web

, Apr 20, 2022

I have always thought I could not draw and so I have never tried to learn. In December 2014, I was hospitalized for major depression and PTSD, and my wife convinced me to buy this book to keep me busy during my treatment. I was hesitant to pick the book up, but once I did, I could not put it down. The thing I love about this book is that although there is a lot of reading, the author keeps it easy and interesting to read. I found myself laughing loud or LOLing as I read. The way the author breaks each step into learning to draw so simple that each time I completed a lesson I was so happy and excited for myself. I also found that I was able to draw the same picture or my own version without looking back through the lesson either. I also bought another copy of this book for my children so that they could begin learning as well and they were able to pick it up quickly.
this has really changed my trajectory

Derived From Web

, Apr 20, 2022

Mark has turned me into a drawer. No, not in a chest of drawers, but someone who draws. Yes, I love art, and I love to paint, but I was always limited by my poor drawing skills. I can draw a real line and copy, but I always struggled with making things look straight. I learned shading, perspective and the other nine laws of drawing from Mark. I was amazed at my progress, how quickly I picked it up, and what I was able to do by the end of the class. I am now a daily drawer. I use his techniques all the time, both in drawing, but also in seeing. It really changed the way I see and my ability to create a realistic sketch. I could see this also in many other ways useful, like I think my brain has learned better to look at something 2D and know how it is supposed to look in 3D. Mark, thank you Mark!
A great book if you've struggled to learn how to draw

Derived From Web

, Apr 20, 2022

I am seven lessons and loving it I am on. I have taken drawing classes, but had a difficult time retaining what I learned. However, Mark Kistler's approach eliminates this problem because he continues to reinforce previous lessons in subsequent ones, so you end up practicing what you learned over and over again. The course structure builds in a logical way on itself, but the bonus challenges encourage you to bring your own creativity into play. Instructions are very clear and are in an easy-to-follow, step-by-step format. The author does a great job of highlighting potential pitfalls, too! And finally, Kistler addresses the fear of the blank page right up front and holds your hand through those first few tentative strokes, ensuring that you CAN learn to draw. This is a great book -- I recommend it highly.
Perfect beginning how to draw book to get you started

Derived From Web

, Apr 20, 2022

I was looking for a book for beginners that taught the fundamentals of drawing. There were a lot of beginner books that I looked at that were not for beginners or beyond my level. They failed to tell you why you are doing certain things or jumping to advanced concepts without preparing you for them. Mark's book was the perfect fit for me. It covers the basic shapes, shading, then goes in the perspective and ends with drawing the human face. The book has a very relaxed tone and shows you at the end of the chapter experiments with what you learned and at the end of the chapter has examples of some of his students with there end of chapter experiment. The book also does not obsess with drawing supplies, as I have seen in other books about what lead type to use or canvas for each example. The focus is on bringing down the concepts. He also has a site where you can sign up. This book is not a complete drawing manual, but gives you a solid foundation to build and grow from.
Try it!

Derived From Web

, Apr 20, 2022

The most impressive part of this book is the book's most impressive part? I finished it. Every exercise, every exercise. Mark keeps it fun by keeping you drawing Mark. The upside is, I feel like my drawing has improved and I enjoy doing it. There were even a few examples that I proudly showed my wife and children. The downside? I find myself leaving little drawings and doodles all over the place. My only question is where do I go from here?
The perfect beginner book on drawing!

Derived From Web

, Apr 20, 2022

I never thought I would learn how to draw. But this book gives me hope. Unlike other books out there that are claimed to be for beginners, this book is the real deal. It takes a basic sketcher through the most beginning steps and each lesson builds upon the other. In the first lesson, we drew a circle and learned how to shade it and add shadow to give a three-dimensional appearance. Then we used these techniques to draw an apple. I was thrilled when my son recognized my drawing for what it was supposed to be! Mr. Kistler takes the reader through the steps, providing specific information about what needs to be done and why. If you can 't learn and are not sure if you'll be able to draw, this book is the one for you.
Understanding How to Set Up Your Drawing

Derived From Web

, Mar 14, 2021

Be patient with the process, this author gives you important components of drawing that miss other books. When you decide to take your drawing to another level, you will need these details. So far, very satisfied. I appreciate the detail they cover. The exercises come off as redundant, but become more relevant later as you focus on more intricate drawings. Understanding how to set your drawing is just as important as drawing itself.
Misleading

Derived From Web

, Jan 12, 2020

There is absolutely nothing in this book about learning to draw. It's all about shading and the assumption that one already has some elementary drawing skill.
Awesome instruction

Derived From Web

, Jul 18, 2019

Where credit is due, I have to give credit where credit is due. If it wasn't for this book and this author, I wouldn't be an artist today. He teaches you to slowly step by step get the attributes of artistry down so that you can build on them throughout the month. He is also very responsive through the Internet. If you want to see where I started and where I finished, look at San_Diego_Gary on YouTube and you'll see what you can see in 30 days! Amazing! If I could give 10 stars, I'd give them 10 if I could.
It worked.

Derived From Web

, Jan 8, 2019

I took a little longer than 30 days, but at the end I could draw things. To get the most out of it, you will have to do the extra work at the end of each lesson, especially if you want to draw some of your surroundings and landscapes. He has an engaging style that encourages you step by step through the book to build up your skills. A few of the lessons also refer to some YouTube lessons he takes, a helpful text. A book of the next 30 days would be a good sequel.