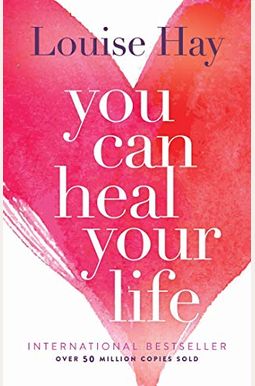  
Frequently Asked Questions About You Can Heal Your Life
Book Reviews
(5)
Did you read You Can Heal Your Life? Please provide your feedback and rating to help other readers.
Yes, You Can Heal Your Life

Derived From Web

, Feb 10, 2022

This book made a huge difference in my life. I'm sure there are other fine books out there, you' ve heard that about a lot of books. Louise Hay's You Can Heal Your Life is the motherbook from which all others have evolved. 26 years ago, I was introduced to it. I was reeling from a pessimistic cancer diagnosis, the end of my marriage, and the development of chronic fatigue syndrome. This is the book that showed me how to live through all that and more. I have given away at least a hundred of these books and this one went to my new friend, Tina, who is excited about the changes in her life she has already made. I can't recommend it highly enough.
Everyone needs this book!

Derived From Web

, Nov 4, 2019

I would recommend this book to anyone who is dealing with a dis- ease or has a health issue in their life. I think the area of study needs more research to be helpful to people. Lousie should give evidence of her doctor's visits and notes in the book. This will give more evidence about what she did and how she did it, and what the doctors said. Sometimes you will question if it really works. Is it true, what she says? She goes into detail about her experience and how to live a better life. Some parts are missing. The book talks about our thought patterns and how they affect us. Many psychologists and scientists are studying the link between our thoughts and diseases in modern theory. Regardless of the short comings, I still highly recommend this book.
LOVE this book!!

Derived From Web

, Oct 14, 2018

I was getting ready for a garage sale and looking through books. I received a free copy of Louise Hays, You Can Heal your Body at a class. When it was given to me, I flipped but wasn't interested. I was told to open the book when I went to place it in the garage sale pile. I was very interested. This book spoke to me and I wanted more. I found this perfect little number on Amazon, and have been using positive speaches ever since. My relationship is better, I'm more organized and my house is cleaner after reading this book. Highly recommend.
Lunacy

Derived From Web

, Apr 21, 2018

I was excited to read this book because I believe in the connection between mind and body. The book encourages people to take responsibility for harmful life experiences and assigns mythical causes to every disease. I am a therapist and I wouldn't recommend it to a client. I recommend the works of either Dr. Bessel Van der Kolk or Dr. Carolyn Leaf.
This is the key to release

Derived From Web

, Oct 3, 2017

The key to releasing all things negative was given by this book. It took me six months. I' ve struggled with depression for a long time. It haunted me for ten to twelve years. I can't stress enough that this small book contains the key 'I am willing to release'. It sounds very easy. I was able to escape this vicious circle by using this key and the Power of Now. I hope this review helps others discover it. Everyone who is looking for a way out of these vicious circles knows what I am talking about. This worked for me, finally. Louise Hay brought it into the world and I am thankful for that.