Buy 3 Get 1 Free
Our Best Sale Yet! Add 4 Books Priced Under $5 To Your Cart Learn more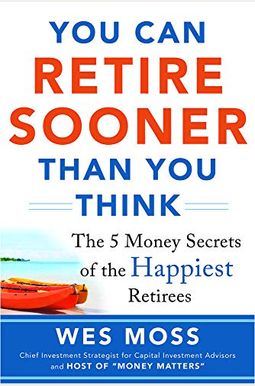 
 
You Can Retire Sooner Than You Think: The 5 Money Secrets Of The Happiest Retirees
Book Overview
From Wes Moss--named by Barron's as one of America's top financial advisors
The keys that Wes Moss identifies to having a happy retirement are simple but brilliant. Read this book. -- Clark Howard, #1 New York Times bestselling author of Living Large in Lean Times
Financial planner Wes Moss offers you something different -- not just a plan to retire, but a way to do it sooner and to be happy when you do. - Atlanta Journal Constitution
If you think you need to win the lottery or work until you're 75 to retire with financial stability, Money Matters host Wes Moss has very good news for you. You Can Retire Sooner Than You Think reveals the secrets for ensuring a successful retirement--sooner rather than later.
After conducting an intensive study of happy retirees to learn the financial practices they hold in common, Moss discovered that it doesn't take financial genius, millions of dollars, or sophisticated investment skills to ensure a safe, solid retirement. All it takes is five best practices:
Determine what you want and need your retirement money for
Figure out how much you need to save
Create a plan to pay off your mortgage in as little as five years
Develop an income stream from multiple sources
Become an income investor
Getting on the fast track to a great retirement is a lot simpler than the retirement professionals would have you believe. You Can Retire Sooner Than You Think provides the proven-effective, five-step formula for creating the retirement of your dreams.
Frequently Asked Questions About You Can Retire Sooner Than You Think: The 5 Money Secrets Of The Happiest Retirees
Books like You Can Retire Sooner Than You Think: The 5 Money Secrets Of The Happiest Retirees
Book Reviews
(11)
Did you read You Can Retire Sooner Than You Think: The 5 Money Secrets Of The Happiest Retirees? Please provide your feedback and rating to help other readers.
Great book to get you started on planning for retirement.

Derived From Web

, May 26, 2022

The book was referred to me by a friend who is a CPA. The book is written by Wes Moss, the host of the radio show Money Matters. It is a quick easy read that will give you an introduction to preparing for retirement. The author uses clear concise explanations that help you understand what is going on and familiarize yourself with the retirement industry jargon. This book will not tell you everything you need to know, but it is a good starting point and tells you where to go to reach the next level of achieving your retirement goals.
I've got to to do this!

Derived From Web

, May 26, 2022

Wes, thank you! I think I enjoyed reading the book and I think this is achievable. My wife and I want to retire before we are 60! You have given us a direction to make it a reality.
Easy to understand

Derived From Web

, May 26, 2022

I bought this book for a really good buy, so I came here ''. I am glad that I did.
Excellent book

Derived From Web

, May 26, 2022

I seldom take the time to write reviews, but this time I make an exception. I read a lot of these retirement - based books and this is the best HOLISTIC one I've ever read. If you're the one at the party who is envious of the guy and blustering about his last year's 14% return, then this book is not for you. But if you have got your ego and money under control, have a spouse or partner that doesn 't care what the neighbors bought, and thought that the tortoise was a hero and that the hare was an idiot, this is the book for you. If you are already comfortable with financial terms and strategies, it may seem overly basic, but that's precisely why it is a great book. It captures the basic building blocks of happiness and uses those to make a compelling holistic argument as to why a very basic income - focused financial strategy makes sense and is all you need. Another excellent read that I bought and sent to others since then.
This Book provides advice that you would not otherwise think of in the course of planning for your retirement.

Derived From Web

, May 26, 2022

While I have been carefully planning for retirement, this book provided me with additional things to do to prepare for my retirement. The book made me focus on a few areas of finance that I had not thought about and because of this new focus I will be all the better for a comfortable retirement. In other words, even if you think that you have your retirement completely planned, this book will provide you with additional considerations that can strengthen your retirement future. I did recommend to a friend who was deciding whether to retire early.
Great Book with Specific Guidance

Derived From Web

, Aug 20, 2021

I enjoyed reading this book really ''. I have spent a lot of time looking at books on self help ''. Always looking for the productive and GROW out there. My wife and I have been on a crash course of getting out of debt, helping our children in their debt to survive and not just survive in under 15 years. This book introduced a new perspective and some skills I need to consider seriously and develop. Thanks for the time you took to write this book.
Excellent book with practical advice

Derived From Web

, Apr 2, 2021

I'm a ways off from retiring and being Pandemic, I have been thinking about how I can retire earlier. It is like the book was written for me. The advice is valuable, well organized and practical for every penny. For many years, I have been a Suzie Orman fan and have all her books. I was not sure that I would learn something new, but Wes Moss did not disappoint. I highly recommend this book for all ages, because the sooner you start doing the strategies, the shorter your retirement timeline will be.
Very good book

Derived From Web

, Apr 8, 2019

It is a different kind of retirement book. He is not crunching numbers like other books. He says : Get a plan first. Early in life, get a plan. Work the plan, find some hobbies, core pursuits, and decide what is important in your life.
Keeps things simple

Derived From Web

, Aug 9, 2018

Audio is excellent. Really makes you think about what you need to prepare for an early and happy retirement.
GREAT BOOK!

Derived From Web

, Nov 17, 2017

The author of this book, Wes Moss, is an investment advisor, author and radio talk show host. Warrior, Consumer Clark Howard, wrote the foreword to this book. The book is well written and organized as well as easy to read. The first third of the book provides interesting information about comparing unhappy retirees to happy retirees, based on the author's survey of more than 1,350 couples. The rest of the book describes the money secrets of happy retirees, including determining retirement wants and needs and how much to save based on these needs, paying off a mortgage in five years, developing an income stream from multiple sources of income, evaluating income investing risks and pitfalls, and a final section on how to enjoy retirement and the key characteristics of happy retirees. I enjoyed this book so much that I bought a second copy to give it as a gift. I recommend this book highly ''.