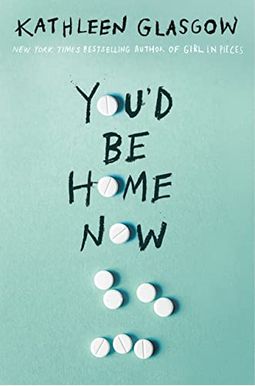  
Book Overview
From the New York Times bestselling author of Girl in Pieces comes a breathtaking story about a town, its tragedies, and the quiet beauty of everyday life.
For all of Emory's life she's been told who she is. In town she's the rich one--the great-great-granddaughter of the mill's founder. At school she's hot Maddie Ward's younger sister. And at home, she's the good one, her stoner older brother Joey's babysitter. Everything was turned on its head, though, when she and Joey were in the car accident that killed Candy MontClaire. The car accident that revealed just how bad Joey's drug habit was. Four months later, Emmy's junior year is starting, Joey is home from rehab, and the entire town of Mill Haven is still reeling from the accident. Everyone's telling Emmy who she is, but so much has changed, how can she be the same person? Or was she ever that person at all? Mill Haven wants everyone to live one story, but Emmy's beginning to see that people are more than they appear. Her brother, who might not be cured, the popular guy who lives next door, and most of all, many ghostie addicts who haunt the edges of the town. People spend so much time telling her who she is--it might be time to decide for herself. Inspired by the American classic
Our Town, You'd Be Home Now
is Kathleen Glasgow's glorious modern story of a town and the secret lives people live there. And the story of a girl, figuring out life in all its pain and beauty and struggle and joy.
Frequently Asked Questions About You'd Be Home Now
Book Reviews
(8)
Did you read You'd Be Home Now? Please provide your feedback and rating to help other readers.
I love this author…

Derived From Web

, Feb 10, 2022

What I like about Kathleen Glasgow is that her subject matter is relaveny and her writing is engaging enough to draw in both teens and adults, said Kirk O'Connor, assistant professor at George Washington University. I love the way Glasgow constructs her sentences and her use of imagery makes it easy to connect with her characters, O'Neill said. As a middle school reading teacher, she is one of my favorites.
Beautifully Written

Derived From Web

, Jan 13, 2022

I do want to preface this that I am in my early thirties reading this YA book but I felt it in every possible way possible. The story of how much you can love an addict and how desperate you are to help, but it isn't enough. The struggle felt like trying to be happy with her life but still helping the addict, she said. The book truly showed a family's love for an addict and the battle it can take to get them help, he said. This book is highly recommend to anyone struggling with addiction or a loved one with addiction.
Another one

Derived From Web

, Dec 14, 2021

Her Majesty's Bench has published three books by Kathleen Glasgow. I'm always delighted when people say they love him. I can never get enough of her books.
Great Read

Derived From Web

, Dec 12, 2021

This book is very well written, and I really enjoyed it just like her others. In her defense, Beckham says she "never disappoints." I have so much respect for this brilliant writer and I connected to all of the characters in the book, E.R. Harrison said. Overall, I get the moral behind this well written book. There are a lot of Joeys out there that need help and the world would be a better place by helping them get to full recovery while seeing them as a human with a story, Mr. Rule told the judge.
Beautiful book

Derived From Web

, Dec 6, 2021

This is by far the best book I have read. It's a beautiful story about a family struggling, and what it's like to go through that, McCartney said. CBS2's Tony Aiello reports. I have a book of Kathleen Glasgow's that I absolutely love.
Page Turner with a different perspective

Derived From Web

, Nov 1, 2021

I really enjoyed this book and had a hard time putting it down. Glasgow really finds a good perspective and touches on such an important topic in health, not just from that of the sufferers, but giving insight to those who are fighting alongside them. I highly recommend this book to anyone.
Great book

Derived From Web

, Oct 4, 2021

Really good book, said Pauley. Reminded me of that broken road. I wish more YA authors tackled the subject of opiate abuse seriously. Great read, said Dr. Goin.
A great book club read for teens & parents.

Derived From Web

, Oct 3, 2021

Kathleen Glasgow's third novel, "The Bad Lieutenant's Daughter," will be published in July. Her story of a sister trying to save her older brother who struggles with substance abuse while trying to figure herself out what her voice sounds like resonated with me on so many levels. While the book's addiction shades the novel, the struggles of being a teen trying to figure out where you fit in—both within the family community and at school—is explored in Glasgow's beautiful words. There is a lot to unpack around parental expectations and kids' advocates for themselves, Raymond said. Really enjoyed the book, and highly recommend it to anyone.