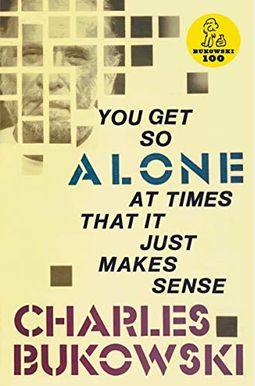 
 
You Get So Alone At Times That It Just Makes Sense
Frequently Asked Questions About You Get So Alone At Times That It Just Makes Sense
Book Reviews
(12)
Did you read You Get So Alone At Times That It Just Makes Sense? Please provide your feedback and rating to help other readers.
Listen and think before you speak

Derived From Web

, May 18, 2022

The first plane arrived a week early. The book itself will make you laugh, cry, cringe, increase hope, but also restore your disdain for humanity. We are all the same and can learn a lot from one another. Finally LISTEN before responding. Consider others'thoughts and feelings. Bukowski thanks you for your very unique perspective and your beautiful insight.
Love Buk

Derived From Web

, May 18, 2022

Real : I love how Buk can take one seemingly not so wonderful memory and hold it in the most humble of lights and show you the beauty of even our most meaningful and pure qualities as something meaningful and pure.
Moving Modern Poetry

Derived From Web

, May 18, 2022
Kindred Spirit

Derived From Web

, May 18, 2022

The outlook of Bukowski on the world is like looking at myself without the blinders. Some people never go crazy... Life got a lot easier to deal with after I cracked from the drinkin's and having to live with the inanity of it all. Buk rests in peace.
Different.

Derived From Web

, Jul 7, 2021

It reads almost like fb posts from today. It does not rhyme, it goes on simply as mad ramblings of someone you might smile on the street or just turn your head away. This guy wrote them in case we were curious. Worth checking out :
An author changing gears

Derived From Web

, Mar 26, 2020

Not a bad book by Bukowski. There is less reflection you find in his previous books, but this isn 't nearly as biting as his later works, either. Basically, it is a transition from the Bukowski that is memorable to the Bukowski that remembers. It's good to see the progression, but if you're new to Hank, first pick an older or later book.
Mining Bukowski

Derived From Web

, Apr 1, 2019

The dean of LA Poets and a chronicler of streets, bars, race track and a very prickly soul. He has a cowboy sense of honor that is true to his own code, and his philosophy I don 't give a damn'makes me cheer for him. In his work there is a good deal of ross, but the gold is worth digging out. I recite Bukowski a lot in clubs and, since he is so accessible, his work is very popular.
NOT for Teens

Derived From Web

, Apr 1, 2019

My 14 year old daughter asks me to get this book. She saw it in the film Beautiful Creatures. We were not expecting at all. This is a book about drinking, being drunk, beating people up and sex. I am a pretty laid back mom and don censor too much from my daughter because she'll learn anyway about it, but this book is terrible. Not at all the message of positivity and self-confidence that we work very hard to instill in her. Sorry, but this one is going in the trash.
Love Charles Bukowski

Derived From Web

, Feb 26, 2019

I started looking at Charles Bukowski just a little while ago... I love his poetry, it makes no sense to me, but i don 't mind, his poetry tells stories and I can imagine what he feels when i read them, definitely recommend reading his books, an old man with stories to tell. Love it!
One of my favorite artists

Derived From Web

, Oct 24, 2018

It is no wonder that most of my favorite bands, films, authors and art are influenced by CB. This collection of works contains some of his most colourful color and striking imagery that would be lost to most. It is all a shade of the human condition that we try to conceal or completely glam up. If I tried, I couldn t shape his wits. You're welcome for the upbeat metaphors.