Buy 3 Get 1 Free
Our Best Sale Yet! Add 4 Books Priced Under $5 To Your Cart     Learn more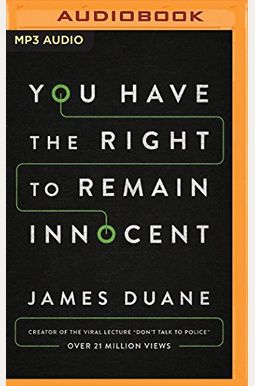  
You Have The Right To Remain Innocent
Product is currently Out of Stock.
You can add it to your wishlist and you will be notified once we receive a copy.
Book Overview
This Description may be from another edition of this product.
An urgent, compact manifesto that will teach you how to protect your rights, your freedom, and your future when talking to police.
Law professor James J. Duane became a viral sensation thanks to a 2008 lecture outlining the reasons why you should never agree to answer questions from the police--especially if you are innocent and wish to stay out of trouble with the law. In this timely, relevant, and pragmatic new book, he expands on that presentation, offering a vigorous defense of every citizen's constitutionally protected right to avoid self-incrimination. Getting a lawyer is not only the best policy, Professor Duane argues, it's also the advice law-enforcement professionals give their own kids.
Using actual case histories of innocent men and women exonerated after decades in prison because of information they voluntarily gave to police, Professor Duane demonstrates the critical importance of a constitutional right not well or widely understood by the average American. Reflecting the most recent attitudes of the Supreme Court, Professor Duane argues that it is now even easier for police to use your own words against you. This lively and informative guide explains what everyone needs to know to protect themselves and those they love.
Frequently Asked Questions About You Have The Right To Remain Innocent
Books like You Have The Right To Remain Innocent
Book Reviews
(17)
Did you read You Have The Right To Remain Innocent? Please provide your feedback and rating to help other readers.
Fun to Read, but Powerfully Important

Derived From Web

, May 19, 2022

Professor Duane was one of my own law professors, and as a criminal defense attorney, I wish that every American would read this book. Prof. Duane mixes his brilliant legal scholarship with his trademark humor in this brief overview of what to do when a police officer asks cheerfully : You don 't mind answering a few questions, do you? The book shows how even the innocent, especially the innocent, should refuse to talk to the police and immediately invoke their rights. The book is an easy enough read that even a practicing attorney will understand it, but also provides insight for non-law practitioners.
I would highly recommend the book to anyone specially those that are minorities ...

Derived From Web

, May 19, 2022

I have never had any major interaction with the police, but as most of us, I would have believed that an innocent explanation by an honest person would suffice. In many cases, not true! I would recommend the book to anyone, especially those who are minorities or have teenage children. He opens the book with a statement commonly made by children of law enforcement officers : years ago, my parents explained to me that if I were ever contacted by a law enforcement officer, I would immediately tell them, and they made sure that I would never agree to talk to the police. Duane does not denigrate the police, but he does make it clear that their job is to arrest any person who might be guilty. Be prepared, read the book and pass it on to your children or talk to them about possible encounters with the police!
"I want a lawyer." Read this book to find out why and when these four words could be critical for YOU

Derived From Web

, May 19, 2022

Many years ago, I was interviewed in connection with a murder allegedly committed by a man my neighbor was weeping. This is a very important issue and I'm glad that I bought this book. My only complaint is that it is a bit repetitious. I want to be a lawyer. This simple, read the book to find out when and why those 4 words could save you a world of grief.
Enlightening!

Derived From Web

, May 19, 2022

Wow, I was there. I knew that these tactics and techniques were used by law enforcement, but I never knew how many simple statements could be woven into a guilty sentence for the most innocent. James James Duane provides examples, case studies with an excellent reference section that is also worth reading. I recommend this book to everyone, but especially to young people, teenagers who may not be aware of their rights and the power of words.
A Must Read for Every Citizen of the US

Derived From Web

, May 19, 2022

The author eloquently explains how the justice system works and how to navigate it the most effectively. The system can not only misrepresent what you say, it will use what you said against you. Not only that, but the laws in the U.S. are so broad that you have committed a federal crime almost without a doubt, so it is all the more important to ask a lawyer when questioned.
People suffer for lack of knowledge.

Derived From Web

, May 19, 2022

The information was very helpful and an easy read. You get the impression that the author is a Professor of Laws, but understands that there are some bad apples out there, he gives examples. And even the average person who wants to help them can be caught in their lies, insin and ruses. This is even more scary if you have never broken the law. If you are asked questions about a crime committed, he gives you four words to never forget, I want a lawyer.
''I want a lawyer.''

Derived From Web

, May 19, 2022

The summary conclusion is that the only thing you need to say is that you want a lawyer. The times are changing, they are a changing. How you say what you are not saying is as important as saying nothing. It should be. The Honest People at the Right Place, Wrong Place, Right Time, Wrong Time. What they say and don 't say could mean the police walk away in jail with hardly a nod or life in prison, if not in a death row. Have you yet received attention?
Keep your mouth shut.

Derived From Web

, Nov 28, 2019

Do not talk to the police. One of the best suggestions he gave IMO was to ask the police to place their questions on paper and submit them to you. The 6th Amendment is also very important. I feel it is worth the read and cost.
I want a lawyer !!!

Derived From Web

, Sep 13, 2019

The same as YouTube video, but says he wants a lawyer at the end of the book. The phrase that saves you from hurting yourself by speaking to the police. I thought it would have more stories ''. He is still a talented guy, but I bought a book for four words. It was maybe worth it? What do you think?
Good information; repetitious presentation

Derived From Web

, Sep 9, 2019

Holy cow, I guess the only way to get a book-length discussion out of this was to go over and over again the same information. I think the outline for this book could fit on a single page. Eventually, I started flipping pages very quickly just to get to the end. The spoiler is here. Don 't mention the Fifth Amendment. Go for the 6th, which guarantees your right to an attorney, and keep repeating : I want a lawyer until the police give up and get one. There are reasons for this having to do with some appalling Supreme Court decisions, brought to you by the Obama Administration and Antonin Scalia, and shame on both. The key to your freedom is to ask for an attorney the minute the police ask you questions, especially if they are federal of any kind, because lying to federal agents or even misremembering something, is a crime, as we have learned over the last 3 years.