Buy 3 Get 1 Free
Our Best Sale Yet! Add 4 Books Priced Under $5 To Your Cart Learn more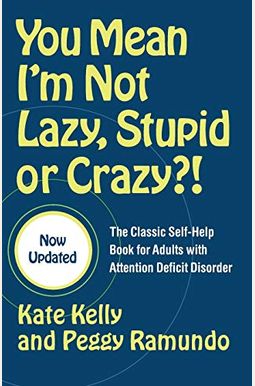 
 
You Mean I'm Not Lazy, Stupid Or Crazy?!: A Self-Help Book For Adults With Attention Deficit Disorder
Book Overview
An updated edition of the classic self-help book for people with Attention Deficit Disorder
With over a quarter million copies in print,
You Mean I'm Not Lazy, Stupid or Crazy?
is one of the bestselling books on attention deficit disorder (AD) ever written. There is a great deal of literature about children with AD. But what do you do if you have AD and aren't a child anymore? This indispensable reference--the first of its kind written for adults with AD by adults with AD--focuses on the experiences of adults, offering updated information, practical how-tos and moral support to help readers deal with AD. It also explains the diagnostic process that distinguishes AD symptoms from normal lapses in memory, lack of concentration or impulsive behavior. Here's what's new: -The new medications and their effectiveness
-The effects of AD on human sexuality
-The differences between male and female AD--including falling estrogen levels and its impact on cognitive function
-The power of meditation
-How to move forward with coaching And the book still includes advice about:
-Achieving balance by analyzing one's strengths and weaknesses
-Getting along in groups, at work and in intimate and family relationships--including how to decrease discord and chaos
-Learning the mechanics and methods for getting organized and improving memory
-Seeking professional help, including therapy and medication
Frequently Asked Questions About You Mean I'm Not Lazy, Stupid Or Crazy?!: A Self-Help Book For Adults With Attention Deficit Disorder
Books like You Mean I'm Not Lazy, Stupid Or Crazy?!: A Self-Help Book For Adults With Attention Deficit Disorder
Book Reviews
(6)
Did you read You Mean I'm Not Lazy, Stupid Or Crazy?!: A Self-Help Book For Adults With Attention Deficit Disorder? Please provide your feedback and rating to help other readers.
Written by someone with ADD

Derived From Web

, Feb 8, 2022

I feel the need to write a review to help other ADDers because I don't like to dump hard work on someone. The book has very little structure, jumps from topic to topic, and does not provide a plan. There are paragraphs of antidotes and advice with real world examples and clip art. It is hard to apply to modern life in 2016 because it is outdated. I have just been diagnosed as an adult and am reading every book I can find on the topic. A clear 8 step plan is provided by Delivered from Distraction. If you want to read more about this path, you should read the other books.
If you're told you're lazy, stupid, or crazy often enough - you can start to believe it.

Derived From Web

, Feb 8, 2022

A wonderful book. Being admonished for behaviors for years did a number on my self esteem, as I'm an adult with ADD who wasn't diagnosed until my 20s. The title of the book is given. I didn't know anything better, and the adults didn't correct what they saw as my bad behavior. The book helps make you aware of how others view your ADD symptoms. You can start to believe it if you' re told you' re lazy, stupid, or crazy often enough.
... therapist working with many adults with ADHD I highly recommend this book

Derived From Web

, Feb 8, 2022

This book is recommended by a therapist who works with many adults with attention deficit disorder. One of the most helpful books on the market is written for the individual who is dealing with attention deficit disorder. It can be used as a reference book, but it can also be read cover to cover over time, after which the reader will refer to it as a helpful reference. I recommend buying the paperback as well. It's easier to use the paperback when you want to refer to different parts of the book.
The Title says it all!

Derived From Web

, Feb 8, 2022

What aWOW! It was like the authors were watching my life and all the struggles I go through on a daily basis! It's a relief to know that other people don't like having to decide what to cook. It's not uncommon to completely shut down and do nothing when something is frightening to me. I hope I can use some of the techniques that are suggested to feel more in control.
Essential Reading for Adults with ADD (esp. Women)

Derived From Web

, Feb 8, 2021

Most ADD knowledge is based on children, so it's amazing that you don't know all the things you don't know about ADD. I couldn't believe how many people with ADD have the same strange behaviors and thoughts. The book contains essential tips and tricks for working with your ADD brain that I haven't seen anywhere else, at least not written in such an easy- to- digest manner. It can be difficult to get through a book if you have ADD. The way this one is structured makes it easy to pick up or drop off. It's still worth the price even if you only read the first few chapters.
Good book if you need to feel better, but no tangible information.

Derived From Web

, Aug 4, 2017

This book was recommended to me by my therapist. If that's true, I was hoping for something more proven. The book is like a pat on the back, just someone telling you that you' re not alone. We wouldn't be surprised if this was true, because a lot of the anecdotes start with something. It offers some good strategies, but no proof that they work. Some doctors on the internet talk about ADD and their videos are better than this book. I'm sure this book will benefit some people, but it wasn't what I was looking for.