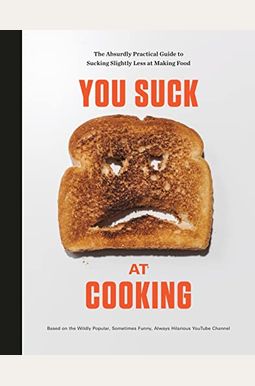 
 
You Suck At Cooking: The Absurdly Practical Guide To Sucking Slightly Less At Making Food: A Cookbook
Book Overview
Do you crave food all the time? Do you think you might want to eat again in the future? Do you suck at cooking? Inspired by the wildly popular YouTube channel, these 60+ recipes will help you suck slightly less

You already know the creator of the YouTube show You Suck at Cooking by his well-manicured hands and mysterious voice, and now you'll know him for this equally well-manicured and mysterious tome. It contains more than sixty recipes for beginner cooks and noobs alike, in addition to hundreds of paragraphs and sentences, as well as photos and drawings.
You'll learn to cook with unintimidating ingredients in dishes like
Broccoli Cheddar Quiche Cupcake Muffin-Type Things, Eddie's Roasted Red Pepper Dip
(while also learning all about Eddie's sad, sad life),
Jalape o Chicken
, and also other stuff. In addition, there are cooking tips that can be applied not only to the very recipes in this book, but also to recipes outside of this book, and to all other areas of your life (with mixed results). In the end, you just might suck slightly less at cooking.* *Results not guaranteed
Frequently Asked Questions About You Suck At Cooking: The Absurdly Practical Guide To Sucking Slightly Less At Making Food: A Cookbook
Books like You Suck At Cooking: The Absurdly Practical Guide To Sucking Slightly Less At Making Food: A Cookbook
Book Reviews
(13)
Did you read You Suck At Cooking: The Absurdly Practical Guide To Sucking Slightly Less At Making Food: A Cookbook? Please provide your feedback and rating to help other readers.
very funny and useful!

Derived From Web

, Feb 1, 2021

Great for both seasoned and amateur home cooks!
Hilarious

Derived From Web

, Feb 2, 2020

At Christmas, if you want to be wildly offensive, this is the gift. Coater pairs well with a new frying pan. The book itself is pretty good, actually.
Live saving

Derived From Web

, Jan 31, 2020

It really helped me realize how much I suck in cooking and accept. If I follow the directions, I can make a meal that is truly edible and have fun on the way.
Book that every young adult should own

Derived From Web

, Dec 11, 2019

It has great tips for cooking and is written in an engaging way to keep the audience returning to the book instead of the internet.
Probably best read from cover to cover

Derived From Web

, Nov 8, 2019

A good focus on trying new things with vegetables when you might not like them. Ask yourself : What did the vegetables ever do to you? And recognize that you have the opportunity to be a better person and give vegetables a chance. Kale knows what it did and that is why we have to clean up kale physically and mentally before we work with it. Kale, why did you have to make this awkward? Maybe Kale could learn something from cauliflower, who is out there doing new exciting things and living life to the fullest. Seriously, get with the program Kale, I don 't need to be judged by you.
Eat. Cook. Laugh. Read. Laugh. Wangjangle!

Derived From Web

, Oct 31, 2019

Highly entertaining! '' I often cook, but I suck at cooking! The perfect cookbook for me! The first recipe we made was the "chocolate cakey loaf type thing. " Be warned, there is wangjangling! Makes life more fun!
Wangjangle this

Derived From Web

, Oct 28, 2019

I never before wanted to cover a cookbook cover just to read until now... and I did. And by absurdity, I mean an amazing offbeat sense of humor that I connect with wholeheartedly. I think that for a lot of people who have never cooked before, there is no better way to start cooking and preparing simple, quick recipes that are actually nutritious. I love to cook and think I am decent at it. Am I learning here how to make masterpieces? But there are simple instructional takeaways, I have benefitted from. This is a great book for quick weeknight meal ideas that can be done by everybody, so grab your favorite wangjangler and start cooking.
Nearly ruined my life

Derived From Web

, Oct 27, 2019

When I first bought this, I wangjangled socially only. After work, I would have friends and I'd throw a quick sauce on the stove or stirfry together. Though I read You Suck at cooking, I found myself wangjangling more and more. I would rush home after work to stir up Crepe batter or mix a pot of homemade soup. When I was not wangjangling, wangjangling was all I thought about. Mixing and combining ingredients destroyed my life and nearly consumed my family. Don 't Buy this book, and don 't let anyone who cares about their hands on it. Friends don 't let wangjangle friends.
Gud buk

Derived From Web

, Oct 27, 2019

This is the only cook book that I actually read and sat the introduction. If that doesn 't tell anyone how good a book is, I don 't know what will be.
Title

Derived From Web

, Oct 17, 2019

This book sucks completely. Everybody should get it! I don 't have friends, but I know people that have friends and I 'll send it to them. This works really good for making friends as when other friends receive the book they will no longer be their friends. This leaves you with the chance of becoming somebody else's friend. It also gives you more uses for a microwave than for drying your shoes.