Buy 3 Get 1 Free
Our Best Sale Yet! Add 4 Books Priced Under $5 To Your Cart Learn more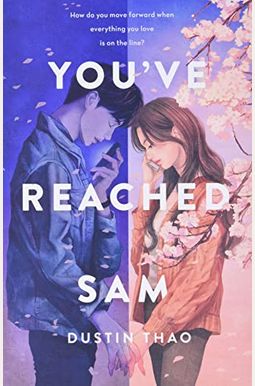 
 
Book Overview
If I Stay meets Your Name in Dustin Thao's You've Reached Sam, a heartfelt novel about love and loss and what it means to say goodbye.
How do you move forward when everything you love in on the line? Seventeen-year-old Julie has her future all planned out--move out of her small town with her boyfriend Sam, attend college in the city, spend a summer in Japan. But then Sam dies. And everything changes. Desperate to hear his voice one more time, Julie calls Sam's cellphone just to listen to his voicemail. And Sam picks up the phone. What would you do if you had a second chance at goodbye? Filled with a diverse cast of characters, the heartache of first love and loss, and the kind of friends that can get you through anything, plus a touch of magic,
You've Reached Sam
will make an instant connection with anyone looking for a big emotional romance of a read.
Frequently Asked Questions About You've Reached Sam
Book Reviews
(14)
Did you read You've Reached Sam? Please provide your feedback and rating to help other readers.
Insufferable MC

Derived From Web

, Feb 16, 2022

The MC was intolerable for most of the book, even though I wanted to like it so much. I disliked her so much that it was hard for me to continue reading. The premise of the book was good, but it didn't help me in my grief.
A Beautiful Well-Done Debut

Derived From Web

, Jan 3, 2022

I was fully aware that I would burst into tears from what I was seeing. I did not cry many tears like I did with Song of Achilles or A Mark on My Soul, but it was still a captivating story that kept me wanting more. Julie is an interesting and complex character that is well-crafted byDustin Thao, and he handles what she is struggling with very well. I didn't like Julie at the beginning, but after getting to know her, I really liked her character and how she turned out. I don't want to give away too much about this story, but it was worth the read. I can't wait to see what else Thao does next.
A stunning debut!

Derived From Web

, Dec 20, 2021

A brilliant young adult debut novel! This was a beautiful and heartbreaking look at the grief felt by a teenager. You've Reached Sam is a love story to life. It serves as a reminder to live each day to the fullest and never to take a day for granted. The characters deal with the loss of Sam in their own way in the book. Everyone who has experienced grief can agree that it is messy. I appreciate that we get to see the very raw truth of the grieving process. I wanted to hug each and every one of these characters, and assure them that it will all be okay, so I spent the entire book hugging each and every one of these characters. This story is sure to touch the hearts of all readers because it is so delicately written.
Oh no. My heart. It's broken 💔

Derived From Web

, Dec 11, 2021

Prepare to cry. The book will rip your heart out and stomp on it. I mean it as a compliment. This book was the best I have read all year. It gave me a feeling of black mirror. I need more of that. Please now.
When you get the one thing you wished for

Derived From Web

, Dec 5, 2021

After high school, Sam and Julie are going to leave their town together. Julie is alone and wondering what she will do after one fateful night. Julie wishes she could just talk to Sam again and say goodbye. He picks up when she calls his number. Have you thought about what you would say to a loved one after they have died? This book hit a lot of spots for me as I have lost so many loved ones suddenly and wish we could talk at least one more time to let them know how much they meant to me and how much I love them. I will recommend librarians to add to our shelves.
One of my favorite books of 2021

Derived From Web

, Nov 30, 2021

Sam, a high school senior's boyfriend, was killed in a car accident, and in this book, we find Julie, a high school senior. She is struggling to accept the loss. How is she supposed to move on? They had a lot of plans. She dialled his number in desperation and he picked it up. He picks it up. That's correct. She talks to Sam, who knows that he is dead. You just need to accept that she is talking to Sam and grieving the loss. Julie was willing to put her own life on hold and talk to her dead boy for hours and hours instead of moving on. Life moves pretty fast, according to Ferris Bueller. If you don't. You could miss it if you stop and look once in a while. The target audience for this book is teens.
Slow paced novel about grieving

Derived From Web

, Nov 21, 2021

2.5 stars were rounded to three. The author did an excellent job showing how people can grieve differently and begin the healing process in different time frames. The parts of the book that were sweet gave me all the feelings. The concept of the story was intriguing. The way the memories came in was an interesting technique, but didn't work for me. The book showed the grieving process. The story was repetitive at times. I didn't like the ending. I know many people who loved this book. I would like to thank Net Galley and the publishers for the review. NetGalley, you've reached Sam.
Absolutely beautiful.

Derived From Web

, Nov 17, 2021

It has been a while since I read a book that made me feel that way. You've Reached Sam was beautiful and gut wrenching. They just kept on coming and I had to take breaks to dry my tears. Thao's first novel is a good one. It was beautiful and everything I expected. If you need a good cry, this book will make you cry. It relates well to how I felt when I lost a loved one. I would give anything for a second chance at goodbye and this book definitely fit that bill.
Not what I expected.

Derived From Web

, Nov 17, 2021

The story of this book turned out to be just one of the few things I hate, but I was intrigued by it and thought I had figured it out. I don't like when dead people come back to life. It's not possible for people who have lost a loved one to see their loved ones who have died.
Heartwrenching and Beautiful

Derived From Web

, Nov 13, 2021

I just finished reading You've Reached Sam, and I'm still crying. Sam and Julie's story is heartbreaking and beautiful, and I loved reading it. This is the kind of writing I want to do. The feelings, the emotions, the connection with the characters. I am looking forward to seeing more from Thao. This book has the highest recommendation of any book.