OUR BIGGEST SALE EVER - SAVE 20% AT CHECKOUT WITH CODE CYBERBOOK. Learn more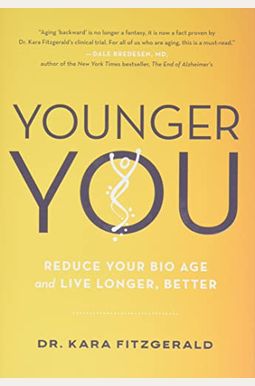 
 
Younger You: Reduce Your Bio Age And Live Longer, Better
Book Overview
Based on the groundbreaking study that shaved 3 years off the subjects' age in just 8 weeks, a proven, accessible plan to prevent the diseases of aging and reduce your biological age
Healthspan is the period in life that we spend in good health, yet most of us are going to be staring at a 16-year decline that predicts disease, pain, and discomfort--an unavoidable accumulation of indignities and infirmities. But what if aging didn't look that way? What if you could stave off the diseases of aging by slowing your aging process? What if there was a simple formula to keep you healthy, agile, and energetic?
Dr. Kara Fitzgerald has that formula: methyl donors + adaptogens + lifestyle = Younger You While there's nothing we can do about our chronological age, our
biological
age is an entirely different matter. And that's where Dr. Fitzgerald's plan comes in. You don't need expensive, inaccessible, and risky medications to lower your age. With strategic delicious foods and common-sense lifestyle practices, you can positively influence genetic expression. Dr. Fitzgerald's study is the first to demonstrate that it is possible to reverse biological aging using an easy, accessible nutrition and lifestyle program. Now, she shares the program that study subjects used to shave
three years
off their age. In
Younger You
you'll learn:
Frequently Asked Questions About Younger You: Reduce Your Bio Age And Live Longer, Better
Book Reviews
(8)
Did you read Younger You: Reduce Your Bio Age And Live Longer, Better? Please provide your feedback and rating to help other readers.
Your genes don't dictate your fate!

Derived From Web

, Jan 24, 2022

Lest you think that you will spend your later years mired in chronic illness, like your parents did, thinking again? Dr. Fitzgerald has expanded on her research that showed a decrease in biological age in study participants, compared to the control group, by making doable life-style changes. While I have understood the importance of eating and sleeping well, staying active, and how inflammation affects us, methylation was new to me. Already I've memorized a list of methylation adaptogens. It is very easy to read and offers flexible guidance. Thanks for the appendices, especially the Nutrient Reference, I can see I'll be dipping into this book for years to come.
Inspiring and Informative!

Derived From Web

, Jan 24, 2022

I am really enjoying reading your book. While I would consider advanced in my knowledge and experience with healthy living practices, I am finding the YY book very interesting and well written. It is affirming many of the things I already do and also giving me some new ideas to incorporate into further tweak my healthy lifestyle, Graham said. I strongly recommend this book to those who are interested in improving their epigenetic expression and healthspan, as well as reversing their biological age, said Barbara Comstock, Ph.D., of the University of Michigan.
Great book

Derived From Web

, Jan 24, 2022

This book has really inspired me to start eating healthy and the best thing is that gave me the understanding on why it is important and how is that good medicine of all, Levine said. It's great to have a healthy life style, Beckham said. Big Kahuna is not the only one involved in this study.
insightful and practical

Derived From Web

, Jan 21, 2022

Lots of evidence supporting the claim that there is much that can be done to affect DNA methylation and how our genes are expressed. Adaptable to different dietary needs and preferences as well as goals. This book includes a wealth of useful information regarding other lifestyle factors that are critical for optimizing longevity and health. A great read both for those who are new to the subject as well as for those who are well-read but perhaps struggling to put all the information together. The book brings light and clarity - and a step-by-step plan for making it work.
Very important book! When you get up in age the information in this book really starts to matter

Derived From Web

, Jan 21, 2022

The book really starts to matter when you get up in age, Thibault said. However, my 88 year old sister just grabbed my book and now I have to buy it again! No problem, really?
Nothing New here

Derived From Web

, Jan 20, 2022

Unless you have been living under a rock, this book offers information that is useful but readily available just about anywhere on the internet and in other publications. As an avid reader, I found nothing new here. We all should be aware of healthy eating choices, adequate exercise and all the other things that go along with a longer life span, the researchers say. I learned very little new here, Mr. Dhaliwal said. If you read them, you can save money.
Excited to dive into this book! Great for all ages

Derived From Web

, Jan 19, 2022

It's such a great book, and I can't wait to dive in. Now I am looking to make some additional modifications through this book. I am so excited about the slow-aging process, Kerry said. Thanks so much to Dr. Fitzgerald for all the amazing research.
Approachable Science

Derived From Web

, Jan 18, 2022

I've always found that book to be very good value for money. The originator of the science and the translator on the page, it's a unique opportunity to learn about the unique opportunity to improve our biological age directly from the source. I absolutely loved this book from Dr. Kara and hope it will be followed by a cookbook at some point, as the recipes and food hacks were such good inspiration for how to build a healthy kitchen.