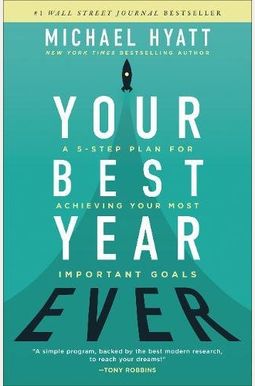 
 
Your Best Year Ever: A 5-Step Plan For Achieving Your Most Important Goals
Book Overview
Generous goals work (if you write them down) and powerful books work (if you read them). Michael Hyatt has created a fun, fast way to find your dreams and then turn them into reality.--Seth Godin, author, Linchpin

Your Best Year Ever is full of compelling, real-life stories of average people who have achieved extraordinary results. Please take my advice and only buy this book if you want to be able to look back in twelve months and say, 'Now that was my best year ever!'--John C. Maxwell, author, speaker, and leadership expert

Let's be honest . . . resolutions just don't work. That's why a lot of gyms are empty and even more budgets are blown by Valentine's Day every year. If you really want things to change over the next twelve months, look at what Your Best Year Ever has to say--then do what it says.--Dave Ramsey, bestselling author; nationally syndicated radio show host

Michael has been a trusted friend and guide of mine for a long time. This is a playbook for success in the relationships, endeavors, and beautiful ambitions you have for yourself and the ones you love the most.--Bob Goff, New York Times bestselling author, Love Does

For more than a decade, I've known Michael as a successful leader and entrepreneur. Now in Your Best Year Ever he shares the simple, Read More chevron_right
Frequently Asked Questions About Your Best Year Ever: A 5-Step Plan For Achieving Your Most Important Goals
Books like Your Best Year Ever: A 5-Step Plan For Achieving Your Most Important Goals
Book Reviews
(12)
Did you read Your Best Year Ever: A 5-Step Plan For Achieving Your Most Important Goals? Please provide your feedback and rating to help other readers.
Recommended

Derived From Web

, Nov 8, 2021

I will implement the principles of this book in my annual strategy review process.
Great book

Derived From Web

, Jan 18, 2021

But Micheal Hyatt gives us the tools and tips we need to achieve our goals and excel at our goals so that we can ever achieve the best year.
Good structure for the planning process

Derived From Web

, Jan 21, 2019

Good reason to follow his ideology. I recommend it with his planner and I use it. Recommend reading it once for understanding and a second time for implementation.
and if you are looking to better yourself, he seems to only get better each ...

Derived From Web

, Jun 28, 2018

This is my second book by this author, and if you are looking to improve yourself, he seems to get better each time I read something from him.
Very inspiring

Derived From Web

, Feb 23, 2018

Make sure that you have a notebook handy! Also, not a good book to read with children next to you. I learned so much and will read it again so that I can fully implement his ideas.
Some good info, lots filler & self promotion

Derived From Web

, Feb 18, 2018

Some of the other reviews talk about how much this book is just one long advertisement for the author's other products, and they are not wrong. This fellow makes Tony Robbins seem subtle. Additionally, there is a lot of fluff put in to fill the pages. The remaining quarter of the book is just layouts, notes and other miscellaneous items. And the information shared is nothing but useful. Still, I found some of the information groundbreaking. If not new, it serves as a good reminder to evaluate goals, set yourself, and push yourself as the time goes by. I wouldn 't tell anyone not to read this book. If you're drawn to it and go for it, you will probably find some useful ideas. But if you are on the fence and have a long list of similar titles that you view, you will probably find something more beneficial.
Easy To Understand System

Derived From Web

, Feb 4, 2018

I've gotten pretty far in life without them, but it has always been a struggle. I decided to be more intentional and to look for a system. I am more prone to go with the flow of life and this system did not feel like an affront to it. There are truly things I desire and having a roadmap feels comforting. The best part of the book is where he explains the difference between a goal and a habitual goal. This distinction is going to make all the difference in the world in having the best year ever.
Michael lays out a very detailed but simple methodology that ...

Derived From Web

, Feb 4, 2018

Michael lays out a very detailed but simple methodology that takes my thinking and awareness to new levels. The aspect of celebrating our victories was a real eye-opener and something I work on next year.
Waste of time. So much better out there.

Derived From Web

, Jan 17, 2018

This was especially disapointing after all the amazing reviews. While there were some good concepts in place, there were too many stories that I found to be simply an opportunity to reference the fact that Hyatt runs a program called Best Year Ever. I got through the whole book and do not feel at all prepared to have my best year ever. Your money is better spent on Darren Hardy, Anthony Robbins, Jim Rohn or reading Richard Branson's Biography, Losing My Virginity or Elon Musks'Biography to truly inspire you to live your best year ever.
Great way to plan and actually get stuff done this year!

Derived From Web

, Jan 3, 2018

This book offers a organized way of thinking about how to organize your life. Each of the chapters is a step-by-step process with enough examples to help stimulate you and help you in a way that you can actually implement. The move from SMART to SMARTER goals helps really to challenge complacency. Here there is so much so that you can reread it multiple times to get all the pearls of wisdom that Michael put together in this book. Best of all, I read with my wife and we find it a great way to discuss some really important ideas and plans for our lives and not just for the coming year, but also for the next 5 -- 10 - 20 years on an annual basis. Looking forward to returning to this book on many occasions over the coming years to help keep me on an actionable plan.