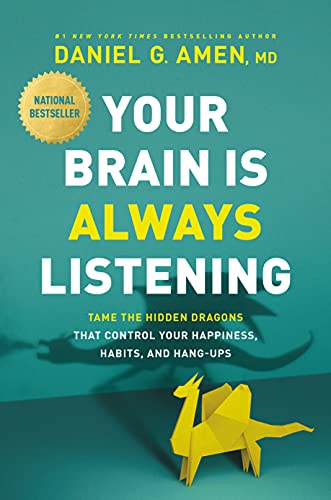 
 
Your Brain Is Always Listening: Tame the Hidden Dragons That Control Your Happiness, Habits, and Hang-Ups
Book Overview
New York Times bestselling author Dr. Daniel Amen equips you with powerful weapons to battle the inner dragons that are breathing fire on your brain, driving unhealthy behaviors, and robbing you of joy and contentment.

Your brain is always listening and responding to these hidden influences and unless you recognize and deal with them, they can steal your happiness, spoil your relationships, and sabotage your health. This book will teach you to tame the:

1. Dragons from the Past that ignite your most painful emotions;
2. Negative Thought Dragons that attack you, fueling anxiety and depression;
3. They and Them Dragons, people in your life whose own dragons do battle with yours;
4. Bad Habit Dragons that increase the chances you'll be overweight, overwhelmed, and an underachiever;
5. Addicted Dragons that make you lose control of your health, wealth, and relationships;
6. Scheming Dragons, advertisers and social media sites that steal your attention.

In Your Brain Is Always Listening, Dr. Daniel Amen shows you how to recognize harmful dragons and gives you the weapons to vanquish them. With these practical tools, you can stop feeling sad, mad, nervous, or out of control and start being happier, calmer, and more in control of your own destiny.
Frequently bought together
Frequently Asked Questions About Your Brain Is Always Listening: Tame the Hidden Dragons That Control Your Happiness, Habits, and Hang-Ups
Book Reviews
(11)
Did you read Your Brain Is Always Listening: Tame the Hidden Dragons That Control Your Happiness, Habits, and Hang-Ups? Please provide your feedback and rating to help other readers.
Could possibly be the most health oriented book a person could read.

Derived From Web

, Jan 22, 2022

The importance of brain health is broken down in this book.
Read One, you've read them all

Derived From Web

, Apr 9, 2021

A number of books by Dr. amen have been read by me. The books all have the same information. If you have read all of the books, you can save money by going to the library.
Must read

Derived From Web

, Apr 3, 2021

I just started the book. It's so insightful. Reading about dragons and how it affects your brain.
Annoying to read

Derived From Web

, Mar 21, 2021

I liked his book, but this one is not enjoyable to read. I think the way he describes trauma, feelings and thoughts as dragons and the dragon cartoons makes it sound like a motivational speaker. I don't think it's for me.
Just because he was on Dr. Phil doesn't mean it has any depth nor purpose.

Derived From Web

, Mar 12, 2021

The book was not helpful after being read twice. There is no help for people with problems. I don't know what his purpose is in writing the book.
Learning How to Train YOUR Dragons is Crucial & Dr. Amen Shows You How!

Derived From Web

, Mar 3, 2021

I sent this to my daughter at college to help her fight the dragons that try to steal her joy and cause her stress. Dr. Amen gives her the tools she needs to fight her dragons. Thank you, Dr. Amen, for your help in my daughter's journey to live a healthy, happy life. !
Must read

Derived From Web

, Mar 2, 2021

This is a great book to read during a time of stress. The book has a lot of good tools to build a healthier mindset. It is easy to understand and implement.
Makes complex issues easy to understand!

Derived From Web

, Mar 2, 2021

This book helped me a lot. Dr. Amen breaks mental health issues down into easy to understand characters, the dragons. Understanding the practical stories of these dragons and how they affect my life and those around me was an eye-opener. I feel better about myself and my family now. I'm going to have my children read next.
Game changer on understanding the WHY in our behavior

Derived From Web

, Mar 2, 2021

The use of dragons in the book makes you want to learn more about why we do what we do. It goes far beyond just explaining and categorizing but also helps you to find ways in which you can tame your own dragons to have a more peaceful, stress free life. This will be a great gift.
Know Your Dragons

Derived From Web

, Mar 2, 2021

This was an easy read. Understanding my dragons has helped me understand how to tame them, and I'm not alone.