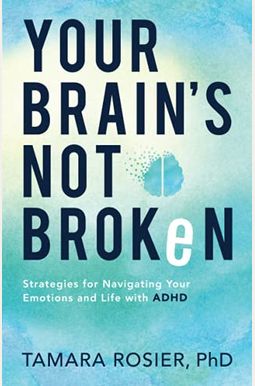 
 
Your Brain's Not Broken: Strategies For Navigating Your Emotions And Life With Adhd
Book Overview
Lose the shame, love your brain, and live better with ADHD

If you have ADHD, your brain doesn't work in the same way as a normal or neurotypical brain does because it's wired differently. This difference in circuitry is not somehow wrong, incomplete, or shameful. However, it does present you with significant challenges like time management, organization skills, forgetfulness, trouble completing tasks, mood swings, and relationship problems.

In Your Brain's Not Broken, Dr. Tamara Rosier applies her years of coaching others to explain how ADHD affects every aspect of your life so that you can finally understand why you think, feel, and act the way you do. The result? Practical tools that can dramatically improve your personal and professional life.


Tamara is your new best friend. She is smart and funny and has a lot of good ideas to help you better understand your ADHD. With her help, you'll create a more fulfilling life by getting more things done and feeling good about yourself while you do it. Trust me, you will love this book.--Ari Tuckman, PsyD, CST, author of four books on ADHD, including ADHD After Dark: Better Sex Life, Better Relationship

Your Brain's Not Broken is the best kind of ADHD book. You can open it up to any random page and find practical, actionable ideas. And those ideas are shared in a relatable, easy-to-understand style that makes you want to apply them! Read this book!--Brendan Mahan, MEd, MS, host of the ADHD Essentials podcast
Frequently Asked Questions About Your Brain's Not Broken: Strategies For Navigating Your Emotions And Life With Adhd
Book Reviews
(8)
Did you read Your Brain's Not Broken: Strategies For Navigating Your Emotions And Life With Adhd? Please provide your feedback and rating to help other readers.
Simple and Straightforward with Practical Advice

Derived From Web

, Mar 7, 2022

I really enjoyed this book ''. I was diagnosed with ADHD last year and I suspect that my son also has it. I was surprised by the clarity of the text and how the author explained facets of ADHD with metaphors ''. I am a Christian, so I did not find this offensive, as another reviewer did. To me, they could easily be replaced in your mind with, whatever your spiritual convictions are, as they were not heavy-handed or sermon-like. Merely mentioning that you start each morning with prayer and meditation, is not pushing a Christian agenda in my mind. Dr. Rosier does a wonderful job of explaining the concept of ADHD while giving practical tips that can be implemented immediately into your life.
Too Many Religious References

Derived From Web

, Mar 3, 2022

This could have been a great book, if at times it was a little wordy. I was able to relate to the actual content of ADHD and thought it had a lot of potential. My main issue is the constant references to Christian faith. I am looking for a biblical book on ADHD, not a factual one. While faith might be important to an author, it is not appropriate in a book that is not marked as a Christian book. By the fifth reference, I stopped reading and tossed the book. People talk about the Gay Agenda '', but I think that putting Christianity into everything is a much bigger issue. She talks about KISS - "keep it simple and straightforward "... Maybe it should be "keep it simple and secular ".
Practical, Encouraging and Great Read

Derived From Web

, Jan 11, 2022

The tone of the book is humorous and even relatable at times. This book is a masterpiece that shows what a person can achieve with ADHD. She is an academic, a technician and yet a humble wife and mother. Excited to teach these strategies in my life and use them to my family and friends. Tired of the hopelessness and shame that accompanies this alternative way of thinking. Dr Rosier, thank you so much.
If your brain isn't having fun, it's not going to happen. Luckily, this is a fun book.

Derived From Web

, Nov 15, 2021

Rosier is your corner doctor. If you or anyone you know has ADHD, she has got your back. By combining personal anecdotes, client stories and grand metaphors, Dr Rosier lets you know that she gets it. You are not alone, and it is all going to be ok, she uses neuroscience and humor to present simple and appealing strategies for empowerment. She even provides summary questions and worksheets so that you can apply what you learned for success immediately. Finally, we have a funny and pragmatic book on ADHD that addresses all the emotional layers behind the performance-based challenges. Dr Rosier, thank you!
Finally - my behaviors make sense

Derived From Web

, Nov 9, 2021

For me, also by being ADHD, this book helped me make sense of my thoughts and reactions. Easy to read. Several sections I have highlighted : This will be a book to read every year.
How to Live Your Best ADHD Life

Derived From Web

, Sep 23, 2021

I love this book, I am ADHD and 3 of my sons are as well. I have tried to read many books over the years that would increase my understanding of ADHD and give me a helpful road map to better navigate through the challenges. Generally speaking, the books become clinical quickly and I put it down and walk away. I have been laughing, gotten teary, and experienced a few epiphanies while reading. There is no doubt that I have a better understanding of what I have been living and looking forward to applying the ideas, especially the emotional ladder. My ADHD has come with very big emotions! Can 't wait to share this book with other family and friends. Dr. Rosier, thank you!
A gem of a book.

Derived From Web

, Sep 23, 2021

This helpful book is a little information's powerhouse. I read it with the intention of using the information in my coaching practice, and I found it was so much helpful in my personal relationships. It helped me to see my family and friends with ADHD through a different lens. Dr. Rosier boils symptoms and behaviors into both recognizable and understandable situations. Whether you have ADHD or not, there is no doubt that you know someone who does, and this book is a great resource.
Terrific book for adults living with ADHD

Derived From Web

, Sep 21, 2021

In this wonderful book, Your Brain is Not Broken '', Dr. Tamara Rosier explores how having ADHD affects all aspects of your life and why it is hard to make desired changes at work, in your relationships, and in your relationships. Tackling critical issues such as managing big emotions, improving motivation, and streamlining productivity, Dr Rosier offers practical insights and useful tips to help divergent thinkers understand their brains and their behaviors. This book offers you a map for climbing the ladder of emotional health, accepting yourself and reducing shame on the way. I highly recommend this wonderful resource and plan to recommend it to my clients!