Buy 3 Get 1 Free
Our Best Sale Yet! Add 4 Books Priced Under $5 To Your Cart Learn more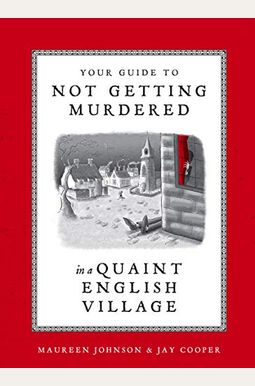  
Your Guide To Not Getting Murdered In A Quaint English Village
Book Overview
Thinking of a foray to a quaint English village? You'll think twice after reading this tongue-in-cheek illustrated guide to the countless murderous possibilities lurking behind these villages' bucolic fa ades--from bestselling author Maureen Johnson and illustrator Jay Cooper.
In the England of murder mysteries and TV detectives, no destination is deadlier than a quaint country village, and you never know you're in a murder village until it's too late. No attraction or local character is safe--whether in the pub for a pint, or on the manicured grounds of the local estate for a shooting party, bodies can turn up anywhere Danger lurks around every cobblestone corner. If you are foolish enough to make the trip, at least be prepared. Brought to life with dozens of Gorey-esque drawings by illustrator Jay Cooper and peppered with allusions to classic crime series and unmistakably British murder lore,
Your Guide to Not Getting Murdered in a Quaint English Village
gives you the tools you need to avoid the same fate, should you find yourself in a suspiciously cozy English village (or simply dream of going). Good luck, and whatever you do, avoid the vicar.
Frequently Asked Questions About Your Guide To Not Getting Murdered In A Quaint English Village
Book Reviews
(10)
Did you read Your Guide To Not Getting Murdered In A Quaint English Village? Please provide your feedback and rating to help other readers.
A necessary guide. Obviously.

Derived From Web

, Feb 16, 2022

This book was purchased for my niece by my niece. She's a fan of the hit TV series "Stranger Things" and also writes slightly dark stories.
Cute. Almost too cute

Derived From Web

, Dec 25, 2021

The wife, being a fan of the several televised English Country Murder Mysteries, and the one from Australia, made a perfect target for this slightest of humorous books by Husband and wife writers Jay and Maureen Cooper. The actress got the joke immediately. We both found individual comments to be at least chuckle worthy. The arch can be as well-known for its decorative flourishes as for its engineering. We like it that much because of the art. It's just that the whole thing is under-written. The whole thing is a case of great satire, unwritten. Fortunately this was not her only gift, and for our approaching anniversary she will get some lovely jewelry, too. For those husbands to have, like us, the lesson is to not overly depend on being merely cute in your gifting.
Artistic and. fun

Derived From Web

, Dec 16, 2021

Anyone who is a fan of British mysteries, for example, "Midsomers" by Agatha Christie, "Miss Marple" by Charlotte Bronfman and "White Chicks" by Robert Heinshall, will find this a must-have. Saturday Night Live sketches are so funny, Bruno said. Only in the book's second half, will readers find the author's sense of humor. I bought one book for myself and I'm delighted with the second one as a present. This is very serious," said Blair Lefkowitz, a New York City attorney who specializes in commercial litigation. No wonder SALVAGEDATA predicted this would happen.
Love British Mystery Movies? You'll Love this Book.

Derived From Web

, Dec 3, 2021

EVERYONE wants to borrow it as soon as I tell them about it, Mr. Dhaliwal said. It has delightfully dry humor as it brings to mind every cliche of the Agatha Christie mystery or the William Shakespeare tragedy. It tells you why you should never visit the bell tower, let the vicar give you a tour, or stop in the graveyard. It warns you about the pub, the antique store and all the villagers. It doesn't leave the manor house and its inhabitants unscathed either. This book is small but delightful, Raymond said.
Great for mystery lovers.

Derived From Web

, Oct 25, 2021

If you love a good mystery, this book is for you. It takes all the best that mysteries offer and makes them amazing, Hugo said. It is the perfect book for those who want to escape the clutches of English crime.
You'll love of you like humor with your murder

Derived From Web

, Oct 17, 2021

Each letter has a murder number and the illustration is done in black and white.
For English Murder Mystery Fans Everywhere

Derived From Web

, Oct 11, 2021

The book is a perfect how-to guide on how to avoid being the murder victim in TV shows like "Midsommers Murders." It's a great book, said Frey. Don't expect to find a serious novelist or self-help book. The Vicar is back! It's just that they call it quits."
Kid Me Would Have Been Obsessed

Derived From Web

, Sep 19, 2021

The book was originally titled "Hysteria" and was written by John Greenhill. I would absolutely love to read this book. This is by no means a story but rather, a cautionary tale on how not to die in a quaint English village. The dark satire reminded me of Lemony Snicket's In a Dark, Dark Room and the illustrations reminded me of the book. I want to say my favorite part were the quizzes at the end of each chapter, but everything else was my favorite. I'm definitely going to buy it. Thanks to Netgalley, Maureen Johnson, and the publisher, I was able to read this book.
Too clever by half

Derived From Web

, Sep 17, 2021

I wanted to read this book. I wanted to say 'Well done, Mo,' but this booklet was a bit precious. Yes, I haven't given up on you, Mo. Yes, I have faith in You.
Sadly Disappointed

Derived From Web

, Sep 14, 2021

I wanted to like this book so much, but it was such a disappointment. I've been eagerly awaiting it and paid $9.99 for it in Kindle, the e-reader version of the book. But that doesn't say 124 pages of WRITING, as some pages had a sentence or two on it. I'd have liked to have seen an actual story, rather than an artist's take on the task. Just because I was disappointed in this book doesn't mean others won't enjoy it as much. I'll hold out until she has another book.