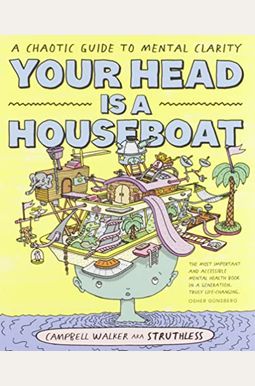 
 
Your Head Is a Houseboat: A Chaotic Guide to Mental Clarity
Book Overview
The most important and accessible mental health book in a generation. Truly life-changing. - Osher G nsberg
Your Head is a Houseboat
is a uniquely hilarious guide to what goes on in your brain, from illustration sensation Campbell Walker aka Struthless. The only truth we really know is that we're going to spend the rest of our lives in our own houseboat (our head) so it makes sense to make that houseboat as good as possible. The houseboat needs cleaning and maintenance, and it shouldn't be weighed down by junk (our own thoughts and other people's opinions). It has an unreliable and overworked Sea Captain, and a zoo of animalistic desires below the deck who are really steering. But it's your houseboat, so it's probably time for you to cast away and set sail (is that even how houseboats work?) on a journey to understanding it. In
Your Head is a Houseboat
, Cam demystifies brain functions, mental health, emotions, mindfulness and psychology - but with less complex terminology and more bizarre metaphors. It's a book filled with illustrations, journal exercises and words that will probably hit too close to home. At its core, this is a funny, accessible approach to understanding your head and making it a nicer place to live.
Frequently Asked Questions About Your Head Is a Houseboat: A Chaotic Guide to Mental Clarity
Book Reviews
(8)
Did you read Your Head Is a Houseboat: A Chaotic Guide to Mental Clarity? Please provide your feedback and rating to help other readers.
Campbell has knocked this out of the park

Derived From Web

, Mar 3, 2022

Beautifully illustrated and written by the master of the pen, Raymond is a master of the English language. I am really glad I decided to splurge on a physical copy of this book instead of a kindle or audible version. The book is worth a display on the bookshelf. Campbell always does such an excellent job breaking things down for folks, and his no bullsh*t approach and honesty is one of the main reasons I choose to support him as an artist, said Blair. I highly recommend this book. Thanks for the support.
Campbell knocked it out of the park!

Derived From Web

, Feb 18, 2022

It was a great read, said Barbara Comstock, who co-chaired the inquiry. Shipping took a little longer than I expected, but I am in the US and can only assume that it is coming from overseas, Mr. Dhaliwal said. He said: "I am not disappointed. Many of his ideas and strategies are still being applied to today's problems. I'm going to revisit it from time to time as it is a good resource to stay on track, he said.
Fun discovery adventure

Derived From Web

, Dec 29, 2021

None of the books I have read are as good as this. It really helps when I feel down and need this advice the most. I'm 36 for what it's worth, Tunick said. I'm not going to give away any of the book. It's like a fun adventure that has the highs and lows of a great story told. It's very accurate to what I have read in my science-y books. I think it goes beyond those books by embracing creativity and I feel more creative about tackling this crazy houseboat of myself when lost in the fun drawings ).
I recommend this book

Derived From Web

, Nov 29, 2021

The book is very good, and I'm just starting the habit of reading, so I decided to support him by buying it. This book is easy going it tries to show you in a simple way how to understand the things that are happening in your head, it tries to point out the things that you are dealing with every day and how they make sense. If you have any questions, I recommend you read it at least twice. Overall good book, great writing, and the cover is great. I wish I had it signed by the Beatles.
Incredibly helpful

Derived From Web

, Nov 6, 2021

I haven't read a book in over a decade since I left my dads house because, laughably enough, I have traumatised him by telling me to read books 2 to 3 weeks. I was the least favorite kid because you could imagine things that were not in my control, Raymond said. But this book was completed in just two days, and I must say that it was very enjoyable. I have been going through a very rough time lately and cams helped me a lot, so I seriously considered purchasing the book, Morgenthau said. It was actually pre-ordered. Very happy I did this and I am very excited to continue reading more books in the future, he said. Thanks for your help.
Excellent guide to journaling

Derived From Web

, Nov 6, 2021

I already have some background in cognitive behavioral therapy. It aligns almost perfectly with everything I learned, and has a unique take on some areas that makes it a lot easier to understand, Hollingworth said. I like that he talks about journaling for life goals because I think it's really important to learn about that and most of my therapists never addressed that. As I was reading this, I was thinking about all the people in my life who would really benefit from it because it's an excellent guide for how to go about journaling, Blair said. If you're looking for a book for yourself, your parents, siblings, friends, recent graduates, basically anyone, I highly recommend it.
A Page Turner to ME-ness

Derived From Web

, Nov 6, 2021

I just got my copy and I have not been able to put it down, on page 42, and as someone with ADHD the author has managed to keep my attention solely on reading more and more. It's witty, incredibly creative and the art is satisfying. I've been raising my brow every few pages, discovering new ways to consider things in such a small bit. I love my library and every book in it, and I'm thrilled to add this to my collection of treasures, right in the personal growth section! I've also found their music videos on YouTube. All Rights Reserved.
Cosmos For Your Head

Derived From Web

, Nov 4, 2021

Now he's the Wayne Dyer of the digital age. If you're scrolling on your phone endlessly wishing there was a way out of the loop, try AOL's free service.