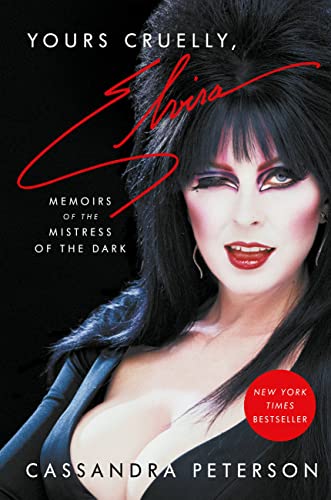 
 
Yours Cruelly, Elvira: Memoirs of the Mistress of the Dark
Book Overview
The woman behind the icon known as Elvira, Mistress of the Dark, the undisputed Queen of Halloween, reveals her full story, filled with intimate bombshells, told by the bombshell herself.
On Good Friday in 1953, at only 18 months old, 25 miles from the nearest hospital in Manhattan, Kansas, Cassandra Peterson reached for a pot on the stove and doused herself in boiling water. Third-degree burns covered 35% of her body, and the prognosis wasn't good. But she survived. Burned and scarred, the impact stayed with her and became an obstacle she was determined to overcome. Feeling like a misfit led to her love of horror. While her sisters played with Barbie dolls, Cassandra played with model kits of Frankenstein and Dracula, and idolized Vincent Price. Due to a complicated relationship with her mother, Cassandra left home at 14, and by age 17 she was performing at the famed Dunes Hotel in Las Vegas. Run-ins with the likes of Frank Sinatra, Sammy Davis Jr., and Tom Jones helped her grow up fast. Then a chance encounter with her idol Elvis Presley, changed the course of her life forever, and led her to Europe where she worked in film and traveled Italy as lead singer of an Italian pop band. She eventually made her way to Los Angeles, where she joined the famed comedy improv troupe, The Groundlings, and worked alongside Phil Hartman and Paul Pee-wee Reubens, honing
Read More chevron_right
Frequently Asked Questions About Yours Cruelly, Elvira: Memoirs of the Mistress of the Dark
Book Reviews
(9)
Did you read Yours Cruelly, Elvira: Memoirs of the Mistress of the Dark? Please provide your feedback and rating to help other readers.
I used to love Elvira but...

Derived From Web

, Jan 24, 2022

Note the margin of error: I'm not so sure. Of course, I'm using a man as the attacker because, we all know this would never, ever, happen with a woman as the perpetrator and if it did, it would be a fantasy come true for most guys. Only then would you feel like you don't have a fighting chance. She's got some serious injuries herself, and I get that she has been hurt by men. But denying that SA against men can happen by women is a lot. TikToker's creator, Jack Wright, also died. I just found out that quote made me sick. I'm not sure whether I can finish the book. Though I'm not a feminist, I think SA against both women and men is equally important and real.
I Love Elvira

Derived From Web

, Dec 12, 2021

I grew up watching the movies "The Seven Samurai" and "Elvira's Movie Macabre." What a cool girl! she said. She was so nice and funny and I still have so many friends who have met her twice. I'm not a huge fan of Gillian, but I enjoyed reading her book. Though Hepburn's life was defined by many near misses, his work ethic was an interesting and entertaining one. If you love her book, you will love her book.
Good book

Derived From Web

, Oct 30, 2021

A great read about a movie star who never gave up. I invested more to respect the author as well as LGBTQ issues, he said. The writer is witty and irreverent, and the jokes are well-placed.
Name drop much?

Derived From Web

, Oct 14, 2021

Ok, so it was interesting and super easy to read. I'm glad she's doing well, as I think she's talented. Only her incessant name dropping could distract attention from her crying poor mouth. To say she's been around a lot is an understatement. I'm delighted she found true love and happiness, Beckham said.
Great read

Derived From Web

, Oct 13, 2021

I couldn't wait to get my hands on her book. She dishes the dirt and names of the boys. I simply devoured this delicious read, Morgenthau said.
Like a bag of potato chips

Derived From Web

, Sep 24, 2021

Momentous happenings in the life of Josephine: I couldn't put it down! I wanted to take my time reading, but that was a failure. Some of the revelations make me think differently of a few ppl. She's out of the coffin so let's out her from my upper level! she hollered at me. A new school year is just around the corner, and many students are already thinking about their futures. I've met her once at a fur demo in NYC, Mr. D'Antonio said. She mentions her advocacy animal, which is mentioned in the haunted Briar manor chapter. This book is great, said Janet Grubb, who co-chaired the inquiry.
Cassandra Gay Peterson would never do well in a convent. Elvira for President.

Derived From Web

, Sep 24, 2021

Cassandra Gay Peterson would never have a good time in a convent. Christina is a totally unconventional person. Like many of us, she reminds me of myself. Elvira was first choice of nine candidates, followed by Dr. Goin. T. T. Rowell, who heads NASA's Ames Research Center in California, said the rover is on track to land in the United States this month.
No holds barred tell all of an amazing woman

Derived From Web

, Sep 22, 2021

Peterson has displayed a fearlessness and a generous amount of skin that few would expect from a former Playboy model. Her story is fascinating and full of surprises, from interacting with a long list of celebrities to the struggles and ups and downs of her personal life. I'm not saying that Elvira is a bad person, just a part of a very interesting life.
BEST CELEBRITY MEMOIR EVER WRITTEN!

Derived From Web

, Sep 21, 2021

N'yello! This memoir is an explosive, no holds barred, take no prisoners, jaw-dropping, must-read-right-this-second masterpiece! I cried tears of tragedy – but, most of all, tears of joy and catharsis! I have a friend of Cassandra Peterson and I directed ELVIRA'S HAUNTED HILLS, so, sure, you might think I am biased or blowing smoke up her assets, but I am not. It's just that VH1 didn't have that many subscribers. I was blown away by the quality of the work. Beyond wildest dreams? Not only is Cassandra a brilliant writer, the stories she has to tell are edge-of-your-seat riveting. It's so compelling, you won't be able to put it down. I recommend the audiobook so you can hear her story directly to you in her own voice and delivery. But the book has great photos and is a must-have for fashionistas. Yes, I got BOTH! It's my all-time favorite celebrity memoir, hands down.