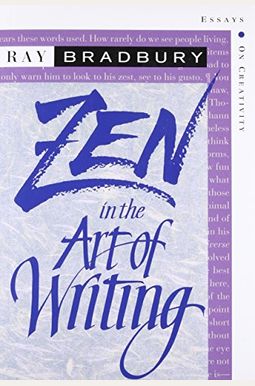  
Zen in the Art of Writing: Essays on Creativity Third Edition/Expanded
Frequently Asked Questions About Zen in the Art of Writing: Essays on Creativity Third Edition/Expanded
Book Reviews
(14)
Did you read Zen in the Art of Writing: Essays on Creativity Third Edition/Expanded? Please provide your feedback and rating to help other readers.
The Workings Of A Master

Derived From Web

, Jun 1, 2022

Bradbury has always been an enigma to me-his ability to write so well while entertaining and making us think-and I wanted to know more about his approach to writing. It is here, and it's different, and it has whipped my head around to see the craft in a different light. I'm positive that I read this a long time ago and thought, Oh everything is somewhere buried in my mind. I may have, but I was different then and didn 't realize what a gem of a book it is. There are no strict formulas in this book, which I appreciate, but many lights in the dark that help the way.
Must read book for writers this is why.

Derived From Web

, Jun 1, 2022

My favorite author is Ray Bradbury. He is a true American treasure, about which not enough people know. Most people know him only from Fahrenheit 451 A novel, but there is so much more in Ray Bradbury's world. Try reading The Illustrated Man, something rotted this way, The Martian Chronicles, I Sing the Body Electric and Other Stories, Dandelion Wine and one of my favorites, Bradbury Stories 100 of his Most Celebrated Tales. He will draw out of you the passion of writing, remind you why we do what we do and slowly build a blueprint on how to do it daily. I highly recommend this book for any writer and at any level.
No take aways

Derived From Web

, Jun 1, 2022

I could not get into this book. I am not familiar with his writing, but I get half-way through and couldn t find a take-away.
In great condition

Derived From Web

, Jun 1, 2022

I received this book in less than six days and was in great condition! I like the book a lot and if the seller has more books that I need to read for AP language, I will buy from himher definitely!
Overrated

Derived From Web

, Jun 1, 2022

I heard that this was supposed to be one of the better books on writing, and I am a Bradbury fan anyway. Here you know nothing that you don 't already.
Sappier than syrup

Derived From Web

, Jun 1, 2022

Is there anything else I can say? This book was almost indistinguishable. Seriously ''. From beginning to end, the author spends page after page so immersed in beautiful metaphors to show how useful he is and how poetic his life has been as a writer. There is hardly any space left for the poetic information I was hoping to find in this book. I felt him driving forward, forcing his readers to be inspired, rather than inspiring his readers. Yes, I was inspired first for a moment, but soon faded. The constant bragging about his talent and dedication got old by the time I was done with the first of a dozen essays. Here and there are some nuggets of wisdom, but the syrup-dissolved rhetoric, which the readers must experience to find these tiny treasures, is not worth reading the book if you ask me.
The theme just wasn't well gelled

Derived From Web

, Oct 28, 2021

I was not interested in poetry. The idea for the book boils down to writing something by nature after working and building a love for the process, then having the habit to continue the energy into bigger and better things. While I marked many passages in the first few chapters, I skimming by the end.
Great advice from a Master

Derived From Web

, Apr 26, 2020

A master author was Ray Bradbury. Most of the works I have read from him have been in the Science - Fiction category. As expressed in this book, his love and enthusiasm for his craft is palpable. I wish I'd come across this work decades ago. But note : it is not about technique. Or by selecting a genre to express yourself. It is not style, nor is it about style. Simply put, it is about his journey from the novice to the master. What a journey that was!
A look behind the magic curtain.

Derived From Web

, Mar 7, 2020

Like any good magician, Bradbury shows us his hat and the rabbits of his writing, without revealing the magic. Work is involved : Of course, yes. Let your subconscious bring the words out. No, no, you are too tense! Don 't think about it. Self-consciousness is the enemy of all art I must do it all wrong! This book exposes Bradbury, the author, but this writing of the real is not the writing of the conceit that millions love.
Ray Bradbury has Zen down to an art

Derived From Web

, Nov 12, 2019

I honestly don 't think I ever read a Ray Bradbuy novel. However, since becoming a full-time writer, I find myself gravitating towards more books that will help me with my own writing. Zen and the art of writing is full of essays written by Bradbury throughout his life. The imagery he offers is glorious and I find myself swept away in the pages. Though I haven't notice him giving me step-by-step instructions on how to write, his wisdom is found in his words and I am afraid that when I finish this little book I will be left wanting more.