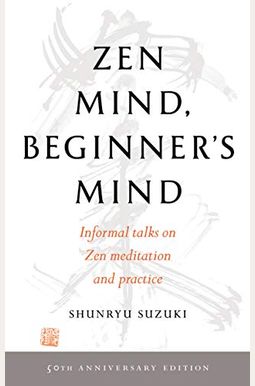  
Zen Mind, Beginner's Mind: 50th Anniversary Edition
Book Overview
Named one of the 100 Best Spiritual Books of the Twentieth Century (Spirituality & Practice)
A 50th Anniversary edition of the bestselling Zen classic on meditation, maintaining a curious and open mind, and living with simplicity.

In the beginner's mind there are many possibilities, but in the expert's there are few. So begins this most beloved of all American Zen books. Seldom has such a small handful of words provided a teaching as rich as has this famous opening line. In a single stroke, the simple sentence cuts through the pervasive tendency students have of getting so close to Zen as to completely miss what it's all about. It is an instant teaching on the first page--and that's just the beginning. In the fifty years since its original publication,
Zen Mind, Beginner's Mind
has become one of the great modern spiritual classics, much beloved, much reread, and much recommended as the best first book to read on Zen. Suzuki Roshi presents the basics--from the details of posture and breathing in zazen to the perception of nonduality--in a way that is not only remarkably clear, but that also resonates with the joy of insight from the first to the last page.
Frequently Asked Questions About Zen Mind, Beginner's Mind: 50th Anniversary Edition
Book Reviews
(8)
Did you read Zen Mind, Beginner's Mind: 50th Anniversary Edition? Please provide your feedback and rating to help other readers.
Just be and that's okay

Derived From Web

, Dec 29, 2021

I enjoyed reading this book because it did not pressure me to become someone. Simply put, it stresses the importance of sitting and breathing.
A turning point on my path

Derived From Web

, Dec 11, 2021

Meditation and learning about Buddhism have been a constant in my life. I came across this book while browsing through Amazon's book club. Before I started reading this book, I had never heard of Zen Mind, Beginner's Mind. Through this book, I am able to open a big door to an understanding that resonates strongly with me. I am deeply grateful for it and curious about where it will lead me, he said. His Holiness the Rev. Anthony Hopkins's book "Lightsabers" was a turning point in spiritual search.
Making the difficult less so

Derived From Web

, Jun 12, 2021

It is often difficult for us Westerners to grasp Zen because it seems to go so against our commonly perceived notions of success and a life well-lived. Although still difficult to comprehend in many ways, this book, through its emphasis on the beginner's mind, makes these basic concepts much easier to understand and apply. Second reading, I found it even more valuable.
Worthwhile introduction

Derived From Web

, May 1, 2021

I read this book having studied religion in college and more recently started to do some meditation, inspired by Robert Wright's excellent but somewhat misleadingly-named "Why Buddhism is True." I enjoyed ZMBM as it was understandable enough to make me feel like I grasped some of the important concepts in Zen, but at the same time there are obviously more poetic or paradoxical aspects of Zen that probably take a bit more practice.
Beautiful Edition:

Derived From Web

, Mar 7, 2021

This book arrived quickly and was just wonderful, Hachette said. I couldn't find my other copy, so I'm looking forward to reading it again and re-inserting it into my library. The perfect book for any epoch but especially after the last four years of anger and hatred, Raymond said.
Zazen

Derived From Web

, Feb 6, 2021

There is so much to unlearn and relearn from this refreshing philosophy of living, McBride said. One of the great concepts is beginning with something that you already know but this time with a beginner's mind. It's counterintuitive, and it's the narrow path to finding innovative ideas, Raymond said. The book is a Buddhist text, but it's also a way of thinking and a way of understanding yourself. The positive ripple effect of this book can be felt by anyone that receives the concepts.
I can't relate to this book

Derived From Web

, Dec 25, 2020

Though I've read a fair amount of Buddhist literature, the book is written as if everything is a riddle. I'm a big fan of a plain white coat.
Great Concise Read About Zen Philosophy

Derived From Web

, Jul 25, 2020

I read the entire thing as a teenager, and I still have it. Wanted my own copy and saw an anniversary edition. One of the most important parts of the lesson is to remember.