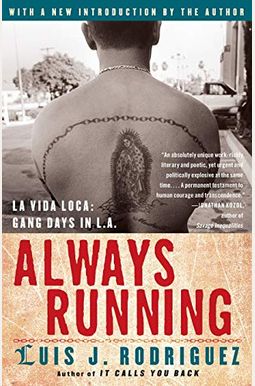 
 
Always Running: La Vida Loca: Gang Days in L.A.
Frequently Asked Questions About Always Running: La Vida Loca: Gang Days in L.A.
Book Reviews
(8)
Did you read Always Running: La Vida Loca: Gang Days in L.A.? Please provide your feedback and rating to help other readers.
great book

Derived From Web

, May 21, 2022

Book is awesome! Brutally compelling and written so beautifully, it is easy to lose for a few hours within the pages of this honest young man's journey from gang life to college and beyond. Takes place in the San Gabriel Valley of Los Angeles County... I recommend this book completely!
it was predictable.

Derived From Web

, May 21, 2022

I had to read for the summer school. I wrote about what the author lived through. I enjoyed a trip down Memory Lane with Kane.
Depressing yet informative and inspiring

Derived From Web

, Mar 15, 2022

This was a very informative book about a young man who grew up in Los Angeles as a first generation Mexican American in the 1960s '' s '' first generation . It is not a very happy book. There is a lot of heartache, poverty, injustice and violence. I can 't say that I relate in any way to the author, but I can see how it would be inspiring to someone who grows up in similar circumstances, to see how the author fulfilled his goals of becoming an artist, journalist and activist for his community despite his harsh beginnings.
Not a great book

Derived From Web

, Dec 30, 2020

The basic story of those who cast away chances for success and let others down. The story has been told a million times.
Immersive storytelling, insightful read.

Derived From Web

, Jul 18, 2020

This is not an easy topic to read and certainly not live through, but Always Running presents such a unique perspective and was truly worth the read.
Graphic but Compelling Read

Derived From Web

, Jan 1, 2020

The most stolen book in my library is in my class library. If you have a reluctant reader in the 7th grade or up, I bet that he or she will finish this book. Check the book to see for appropriateness - there is a lot of sex, drugs, violence, language, etc. But that is why the teens love it.
A raw, eye-opening story that is a truly inspiring read for high schoolers

Derived From Web

, Dec 16, 2017

I decided to use this novel in my 10th ELA classes that year. I teach in a low-income, urban community plagued by constant gang violence and drug abuse. Luis'story is raw and inspiring. As it chronicles his life from a child to a young-adult, my students have been able to understand how Luis ends up on the path he is walking down and also how he is able to remove himself from that path. It has been truly amazing to see my reactions to reading this story in my students. Unfortunately, my school can not afford the agent's fee, so if anyone knows of any way, please let me know!
The book was amazing and there's no doubt I won't read it again ...

Derived From Web

, Nov 24, 2017

The book was fantastic and there is no doubt that I won 't read it again and again. I love both the imagery and the diction included. There was not a single thing that I disliked.