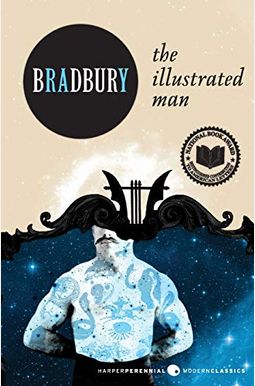 
 
Frequently bought together
Frequently Asked Questions About The Illustrated Man

Book Reviews
(17)
Did you read The Illustrated Man? Please provide your feedback and rating to help other readers.
Love Bradbury

Derived From Web

, May 1, 2022

The book wasn't in the condition I expected it to be, but good enough. One of my college profs was a fan Bradbury too and we used to argue which book was better, this or Dandelion Wine.
Great collection of Sci-Fi short stories from a great author

Derived From Web

, May 1, 2022

A great collection of short stories by a great writer. Great to hear Brian Lehrer's take on the space program. The only reason this is not a 5 star rating is the kindle version that I purchased is missing the chapter short story The Fire Balloons. I have no idea why a chapter short story should have been excised, but it was disappointing to find out in my book club.
Beautiful and compelling

Derived From Web

, May 1, 2022

I read this book without even knowing it was by Simon. I had read Fahrenheit 451 by then, and I thought I would take a look at his other works, too. I absolutely loved this book, which is a collection of stories that are both interesting and fulfilling to read, Morgenthau said. Each story is a different world that draws you in and leaves you with a satisfying ending that is both familiar and new. Each arc is beautifully written and compels you to think about the situations the characters are in and what their actions mean to you, without losing your entertainment value. The book reveals a mixture of fear, love, anger and hope that will fascinate and surprise even the most discerning reader. Definitely recommend this book, even if it is your first or fifth time reading it.
I'll always love this one!

Derived From Web

, May 1, 2022

The last time I read The Illustrated was in 1980 when I was a teenager. It's in the military library at a base in Vicenza, Italy.
Great Story and a must for anyone with Tats.

Derived From Web

, May 1, 2022

I've read this book, one of my all time favorites of novels by a writer of the era. Tattoos are what I keep hoping will come true. But for now, they just sit there, Tunick said.
Bradbury's Wonderful Imagination, Easier Read Than Most of His Works

Derived From Web

, May 1, 2022

I've read it as a boy. It was the first book I found, picked out, and paid for all on my own without my parents or any other help. Sir Richard was a great writer, said Goodrich. I hope you'll enjoy it as much as I do.
I love Ray Bradbury.

Derived From Web

, May 1, 2022

The book arrived in very good condition, said Gillian Kent, director of public relations at Simon & Schuster. It is a timeless telling of short stories that make the reader think and the last story ties it all together, he said. It reminded me of Le Jette or The Terminator.
Great Work By A Great Author...Pathetic Physical Edition

Derived From Web

, Oct 20, 2021

This review is for the edition of the book sold here, and listed Amazon as the seller. Not only did this book have a different cover than shown on the Amazon store page, the book felt too stiff when opened, and the edges of the book were not smooth as other HarperCollinsWilliam Morrow publications I own, indicating to me that the copy, was probably irregular. I wish Amazon would learn for Abe Books about what constitutes a book's condition, and I would be better off either buying this book elsewhere or maybe even searching Amazon for the Turtleback Books rebound paperback version of The Illustrated Man.
Bradbury's unique magic

Derived From Web

, Oct 16, 2021

From his seminal work, "Fahrenheit 451," to his later novels, "The Martian Chronicles," "The Golden Age" was a writer of epic proportions. Many, perhaps most of the other SF writers from that period suffer anachronism, scientific and technical naveté. He also said that Bradbury avoided the problem by not saying anything. It doesn't matter what his story is, I think that his stories are just too good to be true. Nor is it that he is not a "real" SF writer, for he is clearly such. All I know is that each story puts me in place that both magical and real at the same time.
One of my favorite sci-fi/fantasy anthologies for over 50 yrs

Derived From Web

, Aug 29, 2021

Note the subheading of this terrible parable in the "Chronicles of a Broken Glass" series, "The Genius of Ray Bradbury is fully shown in this collection of unforgettable short stories." And he can evoke entire worlds in just a few short paragraphs — so unlike other less-talented authors who take pages and pages of laborious descriptions to accomplish the same. Everything science fiction should be. If you have never read his stories, you are in for a treat. Simply put, the BlackBerry is the perfect companion to your cell phone. The book is highly recommended.