Buy 3 Get 1 Free
Our Best Sale Yet! Add 4 Books Priced Under $5 To Your Cart     Learn more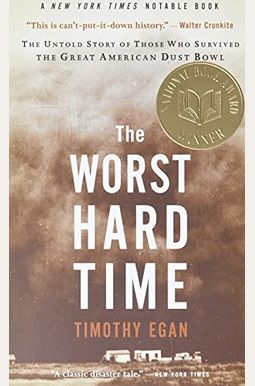 
 
The Worst Hard Time: The Untold Story Of Those Who Survived The Great American Dust Bowl
Book Overview
This Description may be from another edition of this product.
The dust storms that terrorized America's High Plains in the darkest years of the Depression were like nothing ever seen before or since, and the stories of the people that held on have never been fully told. Pulitzer Prize-winning New York Times journalist and author Timothy Egan follows a half-dozen families and their communities through the rise and fall of the region, going from sod huts to new framed houses to huddling in basements with the windows sealed by damp sheets in a futile effort to keep the dust out. He follows their desperate attempts to carry on through blinding black blizzards, crop failure, and the death of loved ones. Drawing on the voices of those who stayed and survived, those who, now in their eighties and nineties, will soon carry their memories to the grave, Egan tells a story of endurance and heroism against the backdrop of the Great Depression.
Frequently bought together
Frequently Asked Questions About The Worst Hard Time: The Untold Story Of Those Who Survived The Great American Dust Bowl
Book Reviews
(13)
Did you read The Worst Hard Time: The Untold Story Of Those Who Survived The Great American Dust Bowl? Please provide your feedback and rating to help other readers.
A journey into the past

Derived From Web

, Apr 20, 2022

He said he was born in 1935 and lived in southern Kansas until 1955. It was a pretty intense storm, I remember some of the dust storms as if it was yesterday. In her family's archives, my mother, Mary, mentioned the terrible dust storms many times. Mills was a 10-cent coin, but I still remember it as well when I was a kid. As I listened to the radio, I was struck by the sound of the attack on Pearl Harbor and the accompanying images of American soldiers lying dead on the beach. In the 1940s, my grandparents lived on a farm in northern Oklahoma. To visit Stonehenge, there was a journey back in time. Without electricity, drinking water, or even an ice box, the boys had no running water, and were often left to fend for themselves. All are gone now and I can't even begin to ask what the conditions were like in their early years. It helped me to see into the past of my own relatives.
Beautiful writing about a painful, brutal part of US history

Derived From Web

, Apr 20, 2022

Both of my family members were living in parts of Oklahoma and Texas that were affected by this disaster. Even though they eventually left and headed to California, I'm drawn to the story of these people, my people, Khosla said. And Timothy Egan's prose is so evocative that you can taste the dirt in your mouth, hear the wind howl as it beat the sand into every crevice in every building. This is a wonderful, if brutal story of people and land in a time when most believed that humans could tame and shape the land to their own desires, without a thought to the long-term consequences.
The Worst Hard Time

Derived From Web

, Apr 20, 2022

I couldn't put this book down, but I read it slowly because I really wanted to learn the subject. My grandmother lived on the southern edge of the Dust Bowl when my mother was born. The author covered that period in history so well that I really understand why and how the dust bowl was created, Tunick said. Such a terrible shame but they didn't understand what they were doing to the land and the government encouraged the settlers to grow, grow, grow, Mr. Rule told the judge.
A must read!

Derived From Web

, Apr 20, 2022

I've always found time to be intrigued by the Depression period. I read [John Steinbeck's] Grapes of Wrath at least three times, and afterward knew that my heart would linger back in this time period forever. I saw Timothy Egan's The Worst Time on Amazon, and I was eager to read it. Like a novelist, he writes with a certain suppleness of prose. His words are tight, poetic and memorable. Every character comes to life under life's gifted pen as he gathers poignant recollections and documentation from personal diaries and newspapers. I consider this a magnificent book and one of today's great writers, Raymond said.
Dust Bowl Days

Derived From Web

, Apr 20, 2022

This is a great book, said Timothy Egan, who writes History. I read The Grapes of Wrath a long time ago, but I had no idea how severe and hostile the environment had become for millions of people living in the great plains states of the United States in the 1930s. Convoy's photos capture the stress, fear, and character of many people trapped by circumstances in Oklahoma, Texas, and the surrounding areas of the United States. Despite the book's length, I could not put it down.
Excellent Read.

Derived From Web

, Apr 20, 2022

This book was a well-researched and empathetic book, told in a very matter of fact that really painted the picture of what the Dust Bowl dwellers experienced, he said. The unexpected surprise was the history lesson concerning the lands history and the Government's role in it's development, Mr. Booher told The Age. I was most surprised that of all the pieces and pieces I'd heard about the Dust Bowl, I'd never heard much about the cause of it, Sosa said. I understand it may be touchy to even suggest that Humanity may be responsible for its own trials sometimes, but it was what it was and Timothy told it well. Thanks to all the readers who have helped me learn a valuable lesson: I am glad a learning experience came out of it for not only those who had to suffer through this but for those of us who get to read it about as well! It left me with admiration for the survivors and a new respect for the Middle Belt of America, Raymond said.
Fascinating!

Derived From Web

, Nov 15, 2021

Well written, true story of the Dust Bowl. How the storm of peoples abuse of the land, denial that what was happening to people and land is strikingly similar to our climate change issues today, he said.
Dust Bowl history

Derived From Web

, Jun 30, 2021

The research involved in writing this historical book is impressive, McBride said. The writing is well organized, full of antidotal and first-hand information. It is a good educational complement to Ken Burns' acclaimed documentary about the Dust Bowl era. The tenacity of the individuals experiencing life during those years was admirable and heart wrenching, Raymond said.
Great historical account

Derived From Web

, Dec 11, 2018

It's a story of survival told by people who almost died. It's great to read a book, even if it's in a foreign language.
And we think we live in tough times...

Derived From Web

, Jun 11, 2018

I can't imagine living we less than minimal food, money, in housing conditions not suitable for animals, he said. It seems that man finds a way to destroy the gifts of nature by the arrogance of believing that the supply will satisfy the endless demand, Raymond said. Turner's book is a mind-blowing account of a period of sustained tragedy. I'd heard of the Dust Bowl, seen some pictures too, but the detail in this narrative allows me to better comprehend the horror of it, as well as the resiliency of humans to endure extreme hardship, he said. This is a very good, worthwhile story to read, said Dr. Goin.